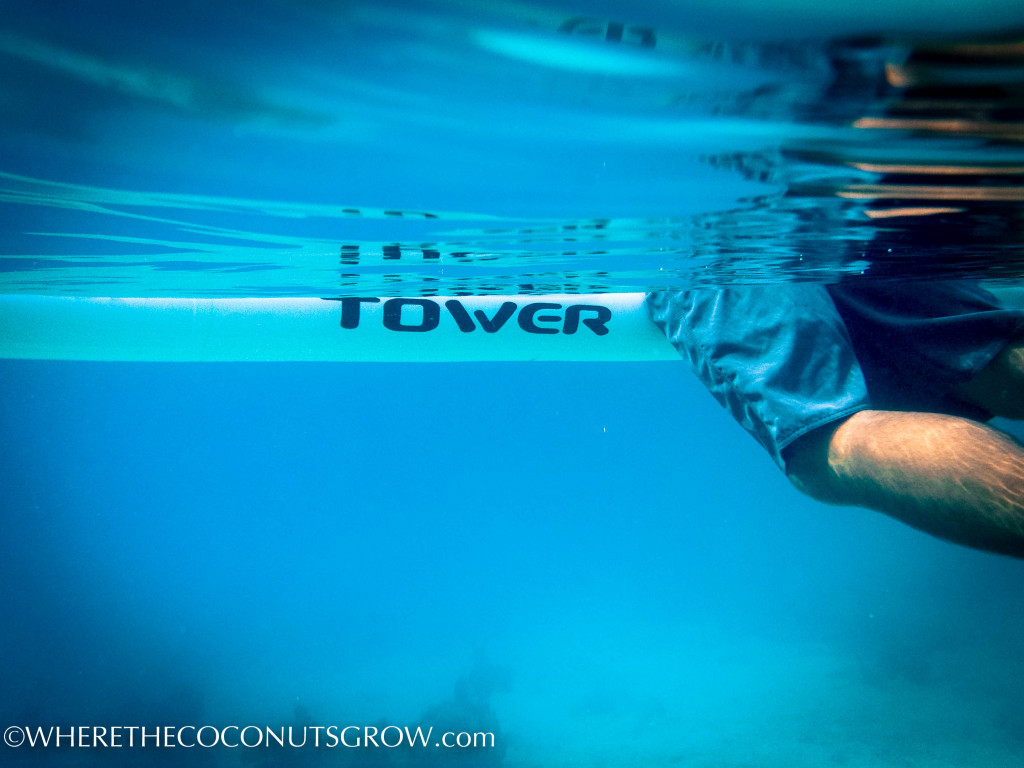 Where The Coconuts Grow is sponsored by TOWER PADDLE BOARDS – A local San Diego company with a worldwide online store. We are proud to partner with this SUP manufacturer that you may have seen on ABC's Shark Tank. They are based out of our hometown in sunny Southern California and we are happy to show some San Diego LOVE!
With a growing popularity among the cruising community, we saw pictures of the Tower iSUPs on several other blogs during the months we spent outfitting our boat. It wasn't until the Ft. Lauderdale Boat Show in 2013 that we became interested in actually buying one. After seeing the boards up close and personal, we decided we needed not one, but TWO 9'10" Adventurer iSUPs! It's a good thing because we use them all the time now that we're out cruising around. Click here to read about our first adventure on the paddleboards in the Bahamas.
Now that we've had some time to play around with our iSUPs, we'd like to share our experiences with you about the PROS and CONS of buying an Inflatable Stand Up Paddle Board (iSUP) while living on a sailboat. Check out our Tower Paddle Board review:
PROS
– Rigidity
There were two blocks placed underneath each end of an Adventurer 9'10″ inflatable SUP at the Ft. Lauderdale Boat Show. Amazed at the rigidity, I called Peter over to test it out.  It's designed to hold up to 300lbs when properly inflated and Peter had no trouble keeping his balance while trying to bounce up and down on the center of the board. In the water, the rigidity proves to be just as reliable as long as it's inflated properly.
– Inflatable
The best part about buying an inflatable SUP is that they roll up nicely. While aware of the long passages we had planned, it was impractical to purchase more gear that would need to be strapped on deck so the fact that these iSUPs can be deflated and stowed neatly in our forward cabin while under way was a major selling point for us. If we are at anchor for awhile, we leave the boards inflated and stowed on deck. On short day sails, the boards are fine on deck, but when we are passagemaking, the boards are deflated and stowed in our forward cabin.
– Size
Tower offers various sizes of inflatable SUPs and several other options for their fiberglass boards. Even at 6′ tall Peter felt comfortable with the 9'10" board instead of the larger 14′ inflatable board. The 9'10" Adventurer iSUP is just small enough for me to carry on shore and to lift up and over the lifelines while deploying or bringing it back on board our boat. It's also big enough to remain stable on the water while carrying a bunch of gear.
– Accessories
Tower offers a ton of accessories designed specifically to fit their boards. We have attached a Safari Pak to one of our boards for carrying our snorkel and fishing gear. The other board has plenty of room left for Betsy to ride along for an afternoon paddle. All the essentials are available like a pump, adjustable paddle, leashes, extra D-ring hooks, spare fins, fin bolts and traction pads. If you think you're good enough to not need a leash, at the very least attach some sort of line to the board to be able to secure it to something while not in use but still in the water. We have leashes on both boards but we really only use them to secure the boards to the side of our boat or when visiting friends :)
Boards can be purchased individually or in packages that include the pump and an adjustable paddle. While we purchased the board only, not the package, we still recommend getting the package if you want to be ready to paddle right out of the box. Our inflatable dinghy pump had the same attachment fitting as Tower's so we thought we didn't need to spend the extra money on a second pump. Now we wish we had bought Tower's pump made especially for their boards because our pump lets out too much air as it is being disconnected.
We ended up purchasing paddles with fiberglass handles from another company during a Cyber Monday sale but Tower now offers very nice fiberglass paddles (and other materials) on their site for those interested in upgrading their paddle.
– Convenience
Our favorite part about having two iSUPs on board is that they are so much easier to deploy than our dinghy. We can easily drop a paddle board in the water to go visit a neighboring boat in an anchorage, or take a walk on the beach, or check out a snorkel spot that is farther away than we want to swim. Peter has even taken one of the boards to check us in at Customs and Immigration after a long passage instead going to the hassle of dropping our dinghy and motor.
– Exercise
Stand Up Paddle Boarding is a fantastic way to get in shape. It uses core muscles for balance, upper body as well as leg strength. Access to land may not always be available but in a calm anchorage we can always paddle around for a little exercise. On a windy or choppy day it adds an extra level of challenge to stay standing. For the more adventurous types, some people enjoy SUP yoga and surfing!!
-Price
A Tower inflatable SUP costs several hundred dollars less than a regular board, and often much less than competitor inflatable boards. Tower frequently offers online sale pricing so be sure to check back often! **
-Shipping
Domestic orders over $250 or that include a paddle board qualify for free shipping! Shipping is fast and their customer service is exceptional. Shipping is also available worldwide for a fee.
CONS
– Fins
Two of the fins remain fixed. The larger center fin on our board must be removed in order to roll the iSUP back up into a nice space-saving bundle because the inflator valve is located at the head of the board. This has since been redesigned and the new Tower boards have the inflator valve at the foot of the board making it easy to start rolling from the head and leave the fin attached. Our boards came with fin screws to attach the center fin which eventually began to rust after just a few months in salt water, even after rinsing with fresh water after every use. The head on the bolt has very shallow grooves making it extremely difficult to tighten or loosen the bolt. The bolt is also easily dropped and may bounce off the deck going overboard – OOPS! Tower also took note of this design flaw and has since replaced the fin screws with plastic fasteners attached with a loop. Problem solved!
– Lack of D-Rings
The board only comes with one D-ring on each end. Additional D-rings or a Safari Pak must be purchased if  you want to attach a bungee cord to the front of the board for carrying gear. They are cheap to buy more but take note before making your purchase to avoid the hassle of ordering twice.
– Discoloration
The glue that binds the PVC seems together begins to turn yellow after just a short while of sun exposure.  This isn't a Tower-exclusive issue though… any glue used on PVC, such as our dinghy, will become discolored with UV exposure. It's only a cosmetic flaw but it sure was nice when the board was sparkling white :) After two years in the sun, its hardly noticeable anymore, though it does happen.
– Handle
The webbing installed as a handle in the center of our boards has since disintegrated with UV damage and completely ripped off both boards. Again, Tower took note of this issue and has engineered way better handles out of more durable material for all their new boards. Lucky for everyone else!
After factoring in all of the Pros and Cons, we think the Tower Adventurer iSUP is the best SUP for a living on a sailboat!
**If you or anyone you know is interested in purchasing products from Tower Paddle Boards, PLEASE consider using one of our affiliate links above. Just like many other bloggers, we are part of Tower's Affiliate Program which tracks where their sales are referred from. Simply access Tower Paddle Boards by clicking through from the links above first. Any subsequent products you search for on Tower's website during that same internet session will help us out when you complete your purchase. It's no additional cost to you and it will add a very nice chunk of commission into our cruising fund keeping us afloat for just a little longer. We truly appreciate your support!
Take a look at some of the amazing adventures we've had so far:
We go fishing…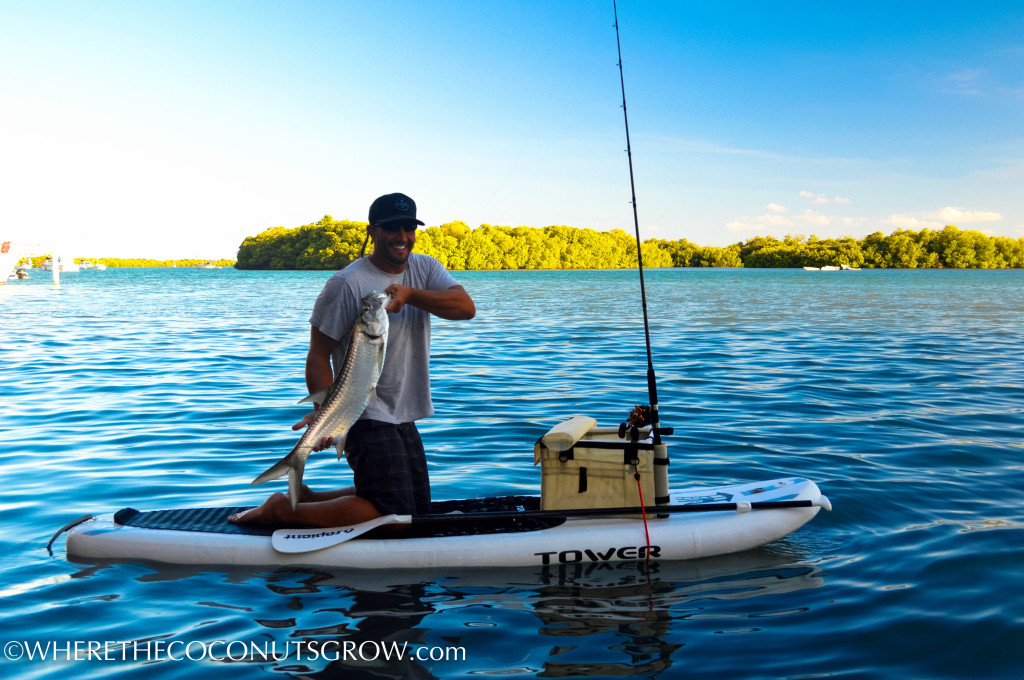 We take Betsy for 'doggie paddle' sessions…
We play bumper boards seeing who can stay on their board the longest…
We explore caves…
We paddle to secluded beaches…
We race…
We paddle to the best snorkeling spots…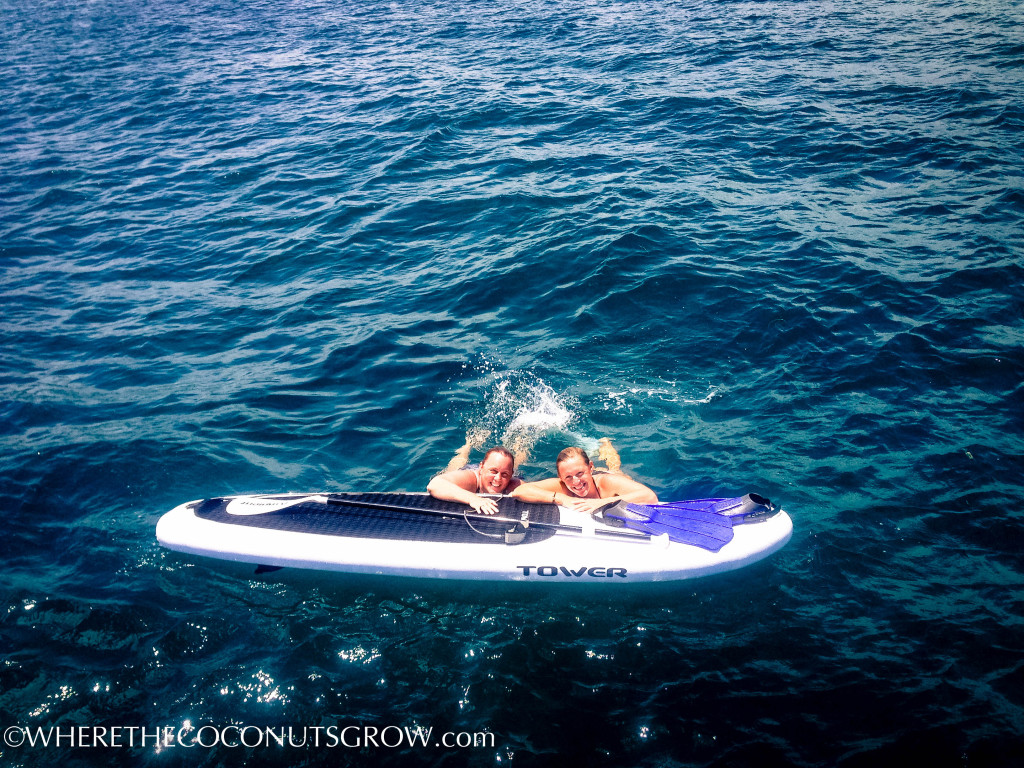 And we cool off…
A special thanks to Mom for capturing some great photos of us playing on our Tower Paddle Boards!!
If you're interested in further reading, our friend Carolyn has a couple great articles about SUP Paddle Maintenance and how to introduce your dog to SUPing!
IN CASE YOU WERE WONDERING…
We are PROUD to share these awesome products and services with our readers. There are so many different solutions out there for everything we could possibly need, but these are the solutions that work for us.
We gladly accept discounts or samples when a company feels generous enough to support our cause. In return we support the manufacturer or local service by sharing their links and writing about our experience with them. We only seek out sponsorship and affiliate programs from products and services we actually WANT to use and likewise only accept offers for products or services that we WILL use.
We are not paid for any reviews we write or feedback we provide. We simply like to spread the word and share great experiences we have had that could also bring joy to others.
**If you're in the market for any of our favorite products, please consider using one of our Tower or Amazon Affiliate links!