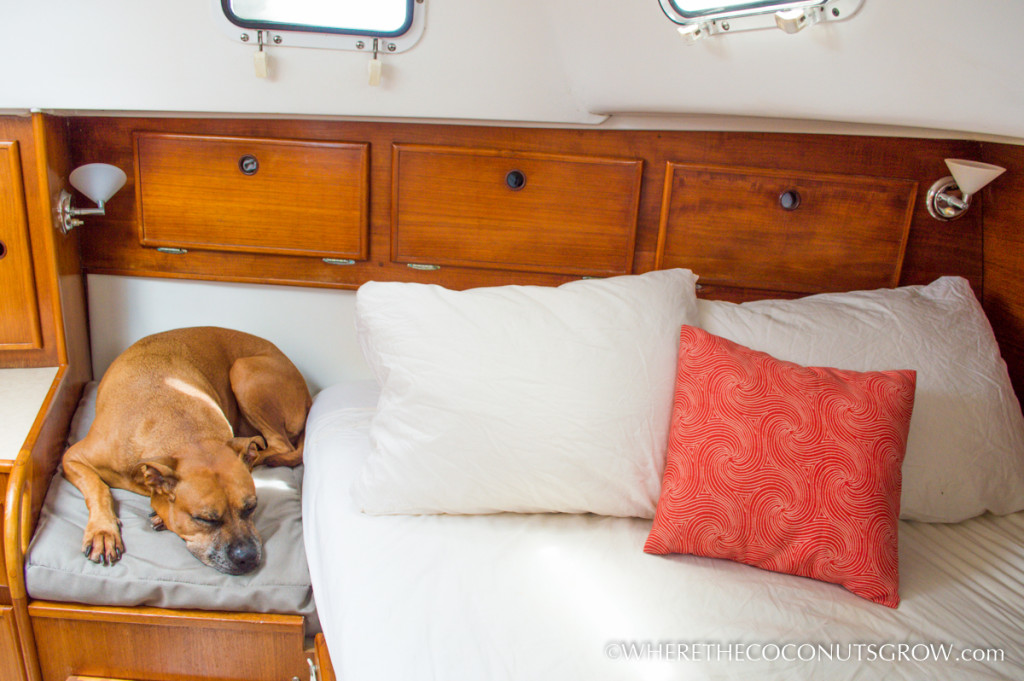 There's this funny little space next to our bed in the aft cabin. I think it was originally designed to be an extension of the sleeping area since there's one on both Port and Starboard sides. Our previous owners decided to remove whatever used to be there and they had a custom "real" mattress made.
With the mattress in place, it left a perfect Betsy-sized area. For the first two years we put a pillow there with a blanket on top to make a nice, cozy bed for Betsy. Gunner was too big so he always got to lay at the foot of our bed, but we wanted to utilize this cute little spot too. Even though we try telling her it's her Princess Bed she still sneaks up onto the mattress in the middle of the night!
I couldn't think of anything better to do with the space so I wanted to make something a bit more permanent and easier to clean. After completion of my Throw Pillow Project I had some leftover scraps of Sunbrella Canvas in Taupe and decided to make a custom dog bed. It was a dark color which would help to hide the dog hair and dirt Betsy leaves behind. It's also a very durable material and cleans up easily.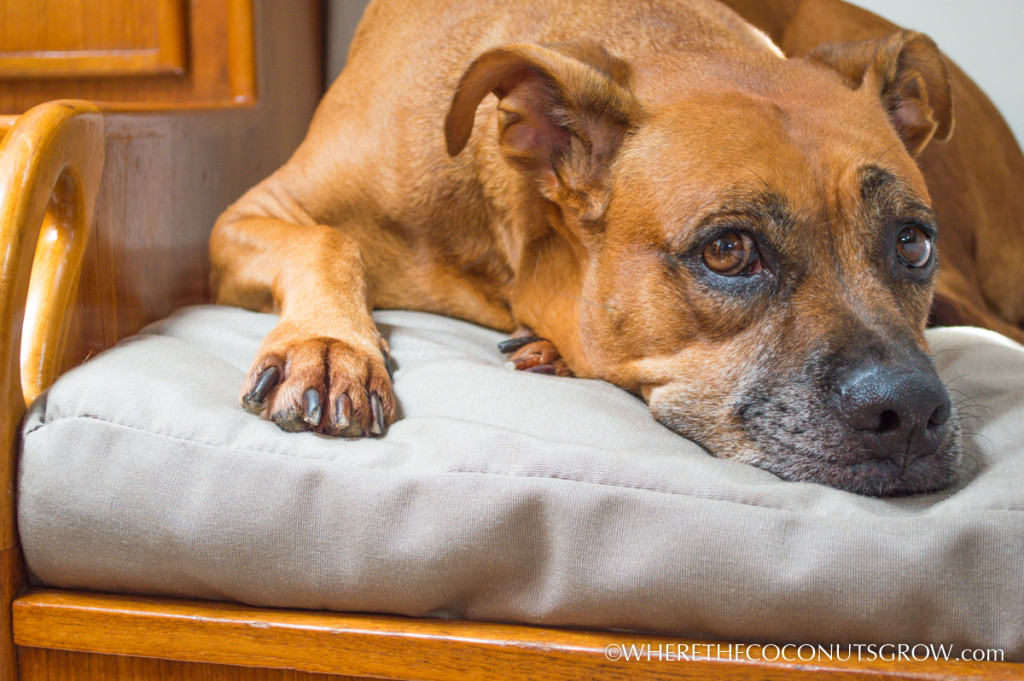 When designing this new dog bed, I used a basic box cushion design, just like I used for my salon cushions. I had already learned the technique from watching the incredibly helpful Sailrite videos. The edges finished nicely and I was pleased with the thickness. I had decided on 5″ thick boxing and for the stuffing I got a little creative…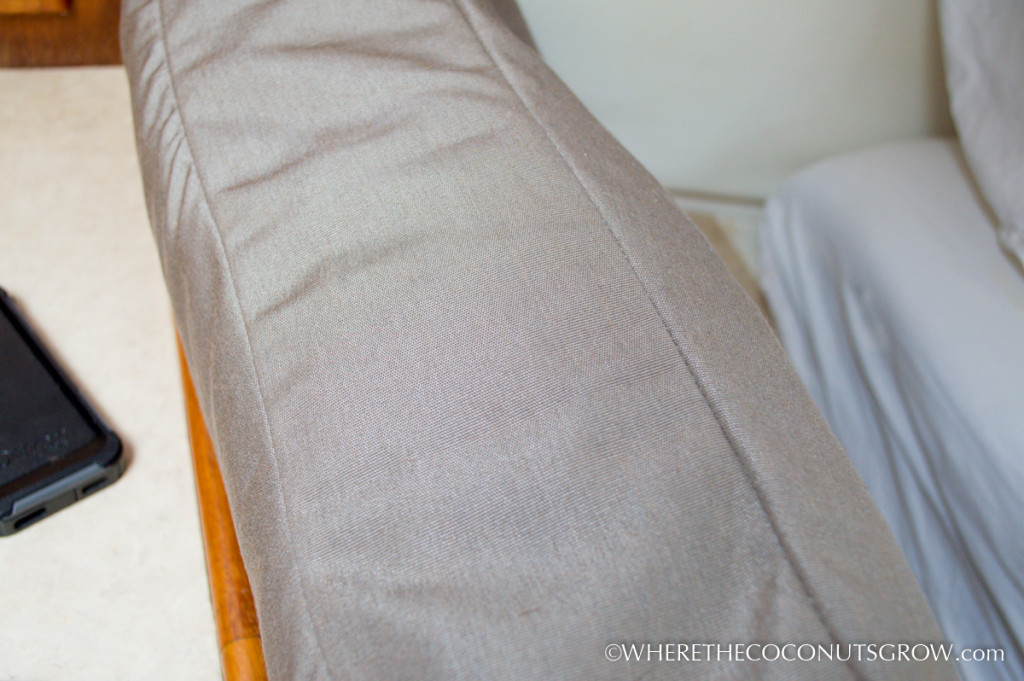 Instead of buying new foam and/or batting for this custom creation, I cleaned out a few cubbies on the boat to see what I could use for stuffing. I had an old worn-out pillow, a big cotton quilt with ugly colors on it, and an old sleeping bag! All of these items either needed to be thrown away, donated or repurposed, so I used them for my dog bed project :) The sleeping bag got cut into pieces which I layered up around the old pillow and put that inside the old quilt. Together, they formed the perfect thickness for stuffing into my new cover.
With some extra zipper supplies on hand, I measured the back end to form an extra long zipper plaque where I could easily take the new cover off to wash it.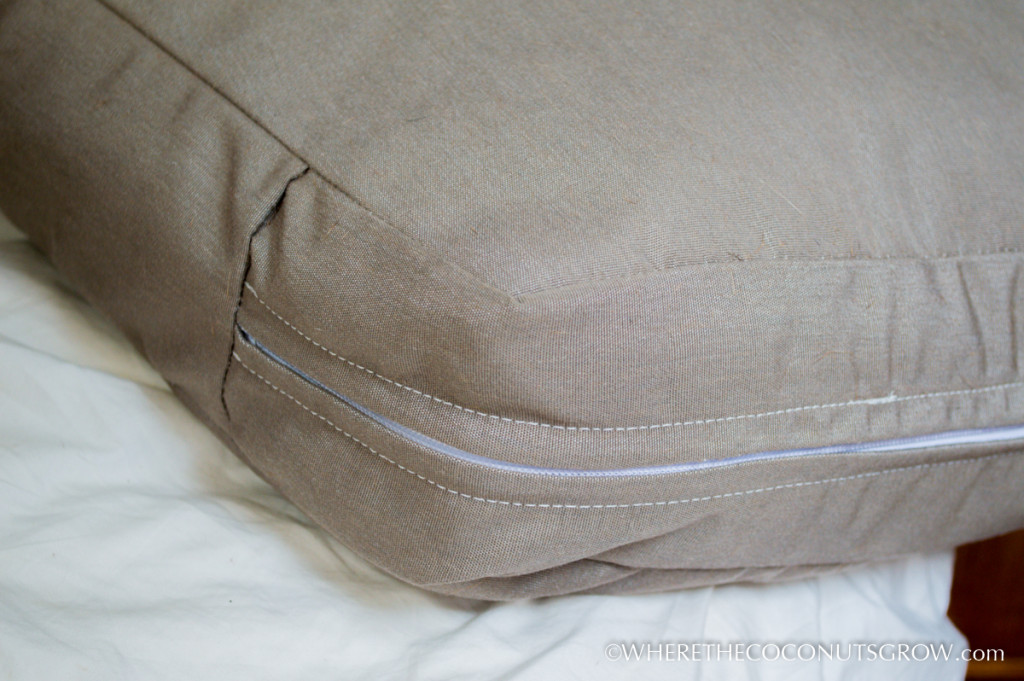 This whole thing had to be cut into a custom shape with each side being a different length. Although I can't flip it over, it fits perfectly!
Thanks to Sailrite and my awesome LSZ-1 sewing machine, I have another home-improvement project checked off the list :)
IN CASE YOU WERE WONDERING… We are PROUD to share these awesome products and services with our readers. There are so many different solutions out there for everything we could possibly need, but these are the solutions that work for us.
This post may contain information about a product sponsorship. We gladly accept discounts or samples when a company feels generous enough to support our cause. In return we support the manufacturer or local service by sharing their links and writing about our experience with them. We only seek out sponsorship and affiliate programs from products and services we actually WANT to use and likewise only accept offers for products or services that we WILL use. We are not paid for any reviews we write or feedback we provide. We simply like to spread the word and share great experiences we have had that could also bring joy to others.