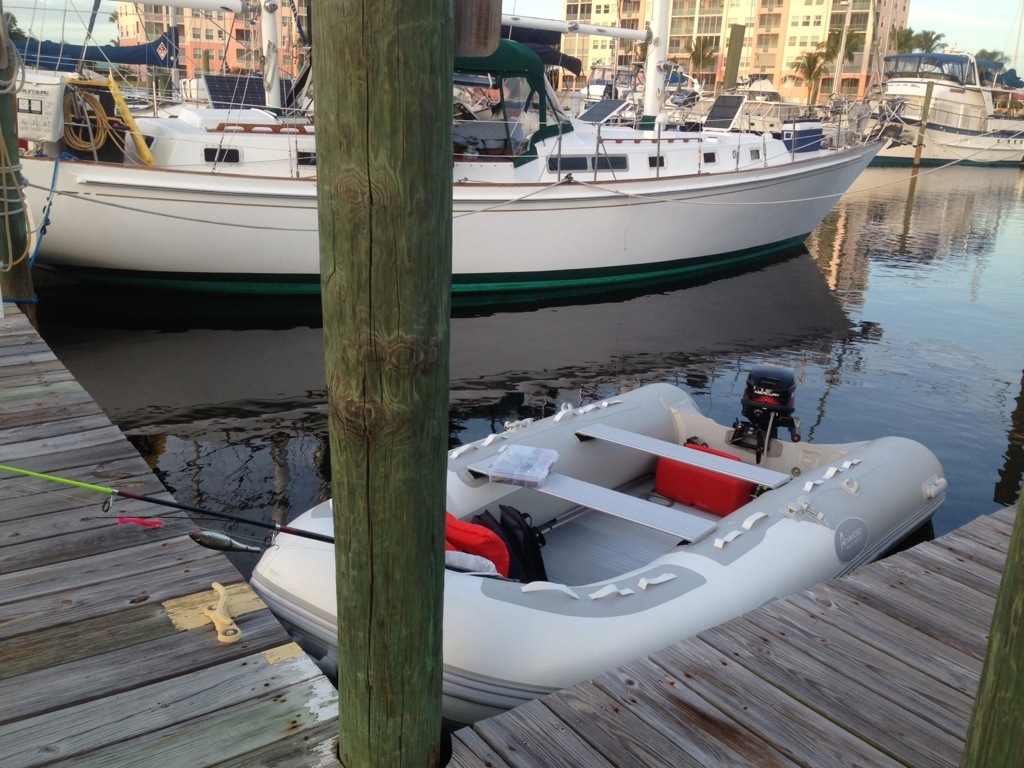 Our new secondary means of transportation is finally ready to rock n roll!!
We shopped for a few weeks for a dinghy and motor on Craigslist. I just LOVE Craigslist!! We have sold a combined $6000 worth of stuff back in San Diego not including motorcycles and vehicles. When looking for something specific, it's the first place we look, and usually someone has just what we need!
When we're out cruising on a sailboat we need something reliable to get to and from shore. When you live on a boat, a dinghy becomes your "car". We didn't need anything real fancy or new, but we did want it to be reliable. As with everything, that's hard to come by for a reasonable price, let alone finding a steal of a deal.
A couple of important factors were considered: length, material, matched rating for dinghy vs motor, weight, floor type and functionality.
Peter wanted a dink that could hold four people (when we have visitors), two dogs, fishing gear, and/or provisions from a local market. This of course means we need a dinghy that is rated for an engine capable of hauling a load like that.
We wanted to try the aluminum floor since we will have LOTS of fish hooks, plus dogs aboard and need something that will be the least likely to be damaged from hooks or 32 sharp protruding puppy toenails.
PVC material is easier to come by, but Hypalon material is what everyone buys if you are going to be in the tropics. The sun doesn't warp it or melt the glue as fast and it holds up to the salt better too. This of course would mean spending more money.
We originally wanted a 4-stroke motor but the lighter 2-strokes started looking better and better when we considered having to lift it off to lock it up on our stern every night in the islands. There are indeed thieves who will come swipe off anything that's easy to grab, especially outboard motors.
We settled on an Advanced Inflatable PVC 12′ (6 person) dinghy with a
Mercury 15hp 2-stroke outboard motor. Anything less than 10′ typically isn't rated for a 15hp motor and we for sure wanted the extra power of a 15hp. The motor is almost 15 years old but the previous owner kept it meticulously maintained, it looked brand new inside! It's not too noisy and it's less than 75lbs which means even I can lift it up or down to Peter when we take it on or off.
12′ of dinghy isn't exactly ideal for us since we don't have davits off the stern, and that means it gets hauled onto the bow with a halyard. Once we get it up there, our huge foredeck is reduced to zilch :( Less room for the puppies when they are on guard and less room for us to move about. The good news is that it's a roll-up with three chambers so we can let some air out of the bow and partially roll it up when we are underway. The aluminum floor is awesome, super sturdy and the inflatable keel seems to help keep us very steady. Did I mention its a nice pretty white color?
The real reason we closed the deal is because of the price. We basically paid for the motor and got the inflatable for free. Turns out the dinghy was defective and was made with a bad batch of glue. It was only put in the water three times before we purchased it and it looked okay, but within a couple days of having it in the marina all the handles, rub rail and transom came off. We kind of had a feeling it would be easier to exchange it than repair the rub rail that had already started coming off the day we bought it, but this just confirmed it. Under warranty, we just had to drive to Ft Lauderdale to get an even newer one. Lucky for us, we were going there anyway to go to the Boat Show!! Now we have a brand new 2013 model, right out of the box and still under warranty, which retails for $1200. Just the motor is worth what we paid for the whole package so we're pretty stoked. It's not Hypalon, but we figure we can just beat this one up for the first year or so until we need to buy a new one, then upgrade to a more durable material. The tropics will surely do a number on it but we don't care so much since it was basically free :)
New toys are always fun and this one seems to be treating us pretty well. The dogs haven't been for a ride yet but we hope they will like it too!!