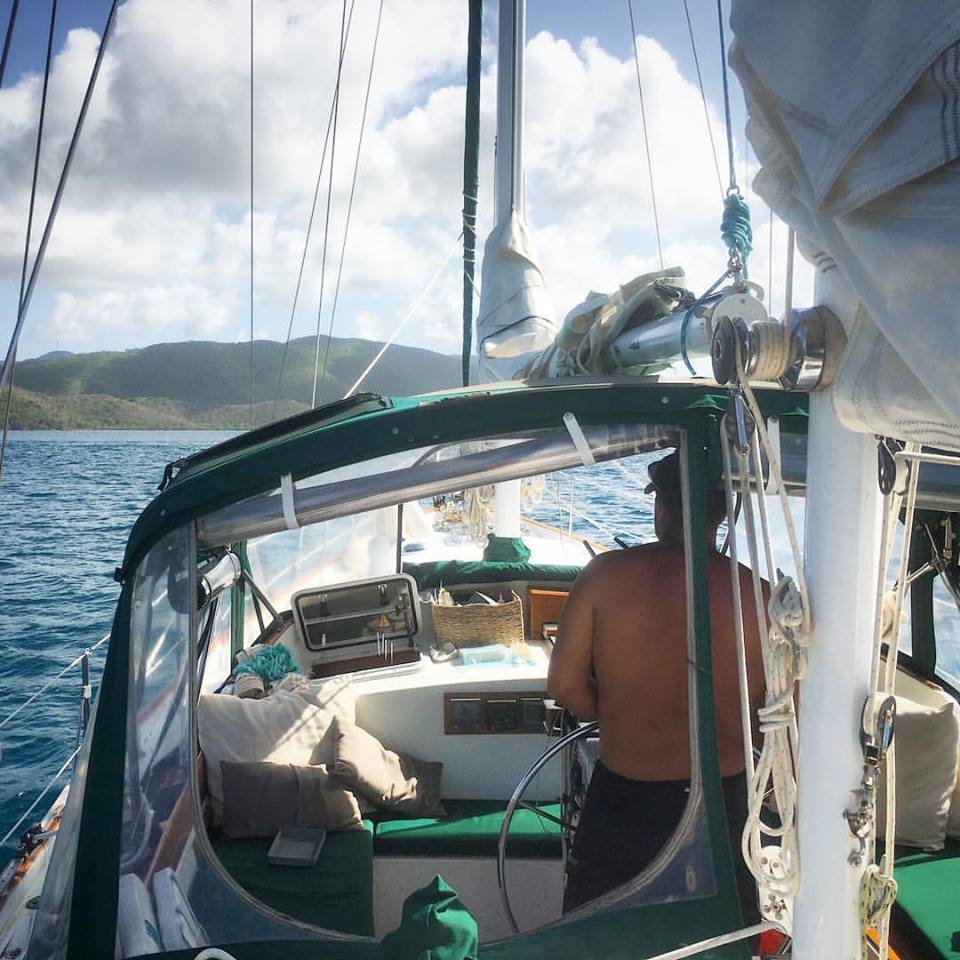 The last two years we spent Hurricane Season down in Grenada with a bunch of other cruiser friends in hopes of staying low enough and east enough to be out of the path of any hurricanes – statistically speaking of course. Our very first year we hightailed it down there since we were very green and wanted to play it safe, though that caused us to miss a lot of the islands without fully exploring the way we wanted to.
The second year we pushed our luck a little and didn't leave the Virgins until the end of July. Our trip south was rushed again but we made it safe and sound.
This year was a little different. This year we were working in BVI into the first part of August. I wasn't comfortable with traveling south from BVI to Grenada that late into hurricane season. It also happened to mark three years since we'd been back to the states. After some discussion, Peter and I both decided it would be best to haul our boat out of the water, secure it on stands and fly out to visit family and friends in California and Washington state. It wasn't an easy decision though, because it would mean a lot of work to prepare the boat.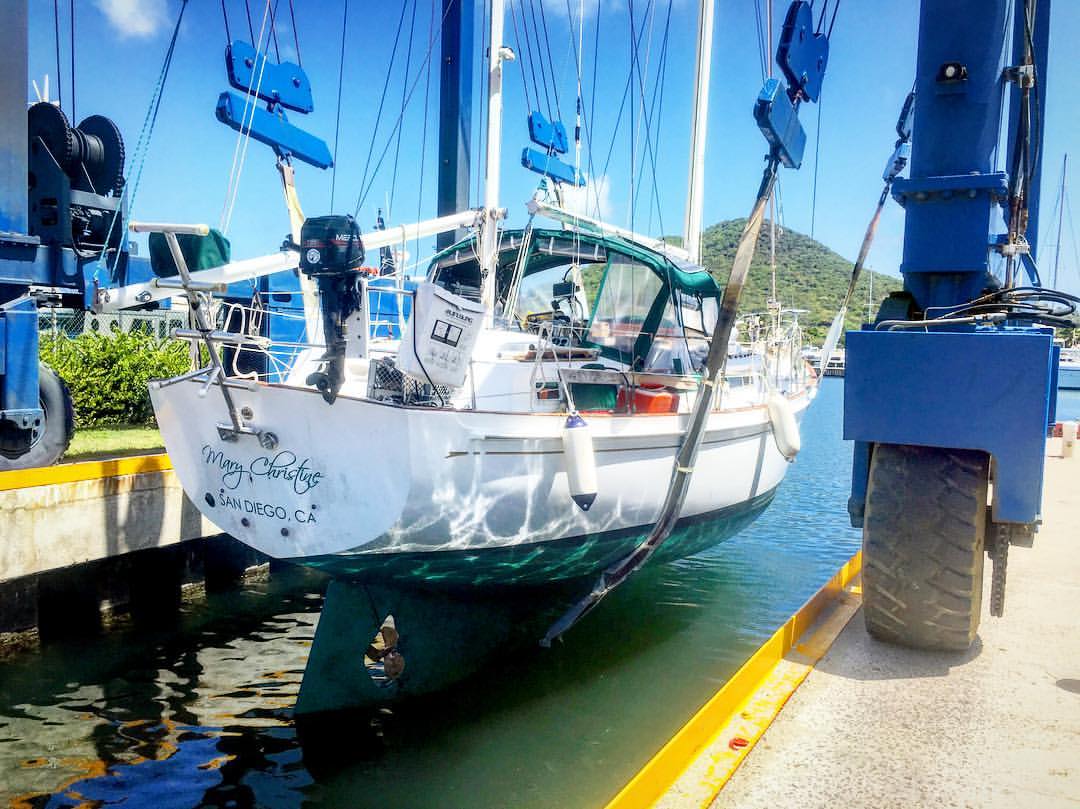 Let's just say it had been a long time since we had to back this full keel into a slip. The Travellift is designed in such a way that we have to back in, otherwise the mast would have to come down. It took a few tries because of the wind, but finally we sprung into place with the help of some linehandlers from the yard.
Even though we arrived for our haulout appointment at 9am, it literally took all day for the crew at Virgin Gorda Yacht Harbour to deliver and finish securing our boat on jackstands in her permanent location. It was very hot outside. Of course I didn't plan to be standing around in the sun all day so I totally forgot to put sunscreen on!! My skin peeled for weeks after that mistake :( We had only been off work for half a day before we left to bring the boat up to Virgin Gorda so there was still plenty of work to do before we departed the next morning. We finished stowing all the cushions, setting up dehumidifiers, vacuuming and wiping down all surfaces inside the boat. We finished packing and made a sad little quesadilla dinner out of the remaining food we had left on board. All was still in the yard that night, yet we were bubbling with excitement to start our vacation ;)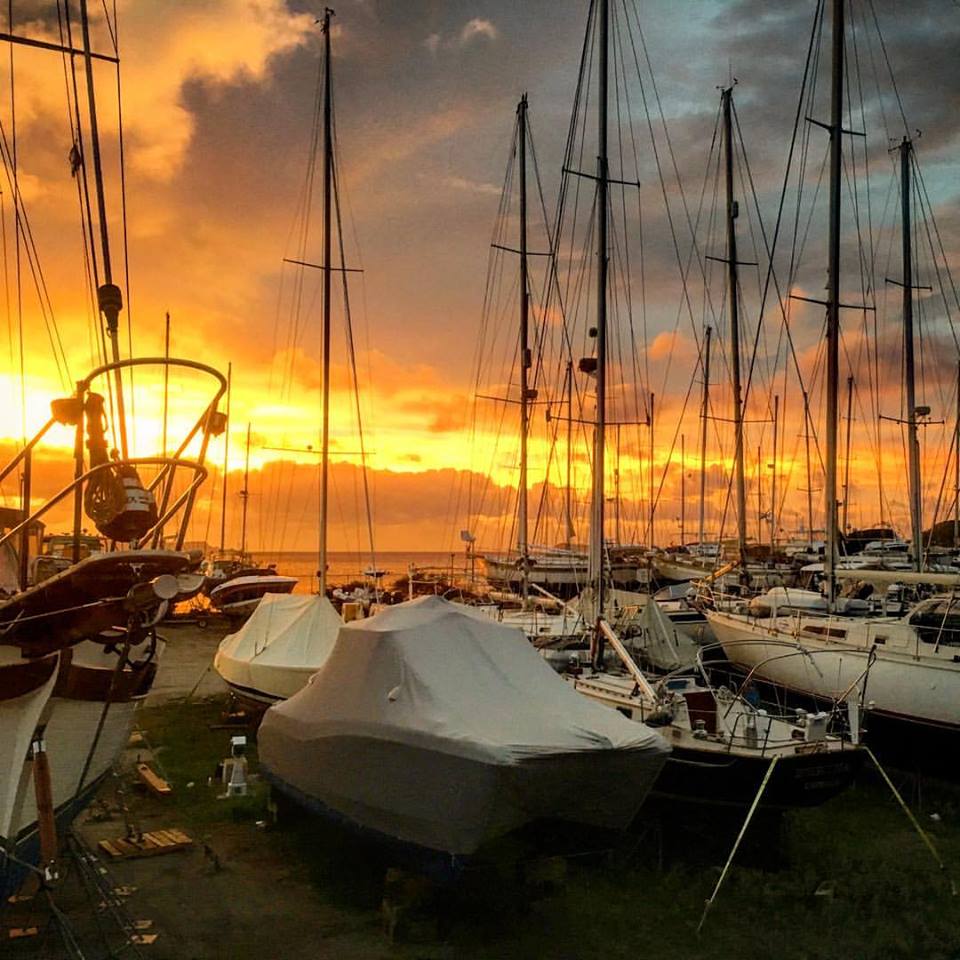 Luckily, Betsy was having a sleepover with our friends on Three Sheets that night. It would have been really challenging trying to get her up and down that ladder in the yard. First thing the next morning we ferried over to Tortola where our friend Scott picked us up. We made a pitstop in West End to check out of the country and pick up Betsy, then made the journey to St. Thomas by boat.
There, our friend William from Mango Media was waiting for us. We spent the morning with him running a few errands – like going to the Vet for Betsy's paperwork, going to AT&T to get a US cell phone sim card and stopping for lunch at a really awesome secret local spot. It's so secret I would never be able to find it again!
We arrived at the airport with plenty of time to make our flight. Everything up to this point was a complete whirlwind and was completely made possible thanks to all the help we got from our friends. Sometimes it takes a village when you're in the islands!
***
Fast forward two months… We've actually just arrived back in Tortola after visiting all of our family. Don't worry, I hope to catch you up on our adventures on land sometime this week…
When we booked our plane tickets back in April, we only left ourselves a total of TWO WEEKS (though now we're down to a week and a half) to get a LOT of work done on our boat after getting back to the islands. She's currently still on the hard in Virgin Gorda. We will arrive there later this afternoon to begin project-mode trying to get as much done as we can. Unfortunately there are certain jobs that must be done while she's hauled out of the water so the rest of the month is critical for us, as we don't plan on hauling her out again for a couple of years. (Knock on teak!) You might ask why we didn't have someone else do the work while we were gone but Peter prefers to be there while all work is being done. We're gearing up for another busy charter season so we know we really need to get the critical items taken care of now before our entire focus returns to work.
Vacation mode is *OFFICIALLY* over! Hurricane season technically isn't over until the end of November but the worst of it has hopefully passed. Even though we'll still be watching the weather closely, this is a great time of year to be working down here. The tourism traffic is already ramping back up for a new charter season!
While we can't wait to see all our friends here in the islands, the next week and a half will literally be madness as we scramble to get the work done on our boat. Wish us luck!!!!