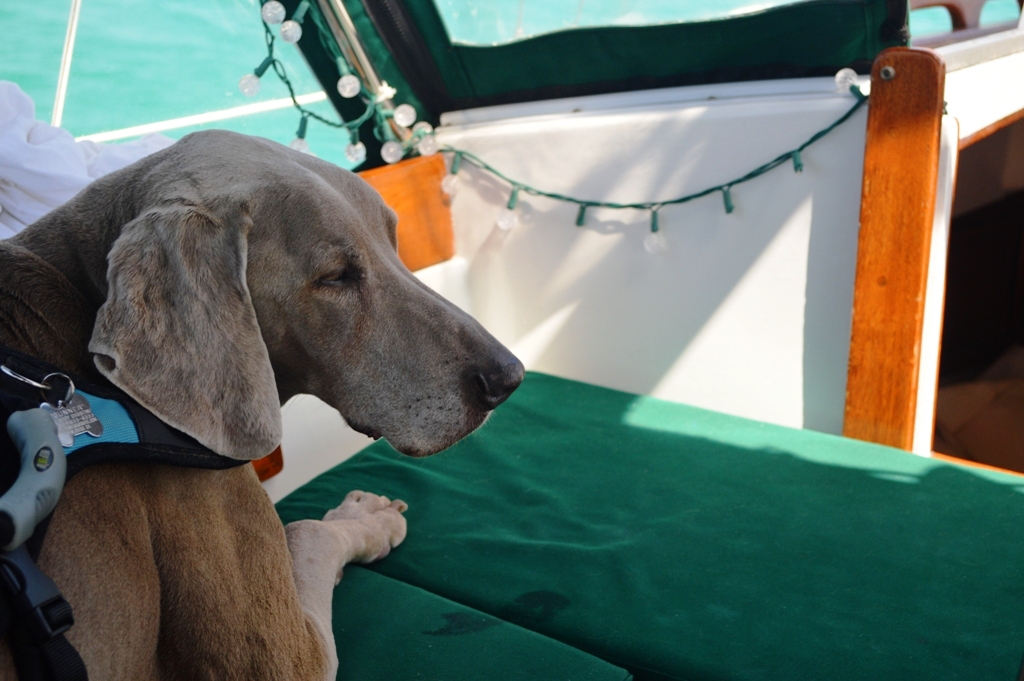 Mom was SO excited to go for her first sail! We left Salinas on May 18th around 8:30 at night. It was beautiful and still inside the harbor. As we motored out, we saw not one but TWO flares go off, just East of us outside the harbor. Couldn't be fireworks. They were most definitely flares. Peter immediately got on the radio announcing what we saw and the US Coast Guard responded right away. They asked that we call them from our Sat Phone to give them all the details. They asked what our course was, the approximate location of the flares, the seconds between the shots, the angle and speed of the flares and any other information we could give them. It was really quite reassuring how totally "On It" the Coast Guard was. I mean, you always wonder if you really needed help, would anyone hear you?
Within what seemed like minutes, a helicopter was flying above us with a spotlight. We never did find out if they found whoever had shot off the flares but hopefully everyone was okay.
The seas along the Southern Coast of Puerto Rico were nasty. The night lees we found in the DR were long gone and the Trade Winds were creating something fierce on the surface of the seas. The waves had the shortest period we had encountered yet, bashing against our hull as we motored hard to wind. Uncomfortable was a mild way to put it. After just a short while, Mom wasn't feeling too well, giving her a terrible first impression of her journey.
Mom stayed up with me for my watches and we slept when Peter took watch. 15 hours later we arrived at Puerto Real, Vieques, around 11:30 am. We decided to take it easy that day and stay overnight. The next day, we left Puerto Real and took a short trip over to Ensenada Honda (or The Turtles). The day after that (May 21st), the weather looked good and we decided to take a three-hour sail and detour up to Culebrita instead of heading straight to the USVI.
As we rounded the point into the anchorage on Culebrita, we saw a gorgeous white sand beach and clear blue water. This place looked like PARADISE compared to the anchorages we had been staying in ever since the Bahamas. There were about 4 boats on mooring balls near the beach. We decided to anchor in a sandy patch a little further back.
Peter took off on a paddle board to go say hi to our friends on Rainbow, just across the anchorage. Last time we saw Rainbow was back in La Parguera so it was nice to see a familiar boat. We spend a fantastic three days here in this magical little place. If we ever come back this way, we will definitely schedule in some extra time to come back here. One of our favorite places for sure.
Lobster Season on Culebrita happens to be YEAR ROUND! The anchorage here is also on the North Coast of the island which is supposedly not affected by Ciguatera, notoriously found on the South side of Vieques and Culebra. Within the first 15 minutes of snorkeling around the reef nearest our boat, Peter spotted a monster lobster down about 20′. He used his snare to catch him and quickly swam towards a sandy patch away from the reef. If the lobster were to get loose, it's best to take it where there is no where to hide. By handling lobster over the reef, they can easily wiggle away and crawl into a hole faster than we can swim back down.
We stayed on Culebrita for three nights. Every night we were there we had fresh grilled lobster. Peter dove hard for them for many hours and always towards the end of the day he would come up with some of the biggest lobster we've ever seen. Although leery of the larger fish, he hooked a few mutton snapper off the back of the boat each night as well. The larger ones have a higher chance of containing Ciguatera so Peter let those ones get away.
Gunner and Betsy had SOOOO much fun swimming at the beach! Betsy would spend the whole day in the water if she could. Gunner goes back to the dinghy when he's tired and barks at us to lift him back in :)
Gunner wasn't too sure about our dinghy anchor…
Gunner was very excited to find a coconut up on the beach. He kicked it around a few times but eventually figured out he couldn't eat it. I think he likes to be where the coconuts grow just as much as we do!
Friday was the start of Memorial Day Weekend. All the Puerto-Rican power boats cruised in, one after another, after another, after another!! We were amazed at how many there were. 60+ at least. Other cruisers had told us about the "Puerto-Rican Navy," and that this is a regular occurrence on the weekends but we didn't understand until we saw it ourselves. The music got louder, the wake got larger, and the bikini bottoms got smaller. It kind of ruined the whole place. Being anchored next to a bunch of rowdy naked people partying all night long is not our idea of paradise so we got out of there as fast as we could.
It was a short sail over to St. Thomas, USVI, on the 24th of May. We arrived just in time to pick up my grandmother (Mom's mom) who everyone knows as "Bean" the very next day.  We've had some pretty amazing timing on this adventure and this is just another example of how everything happens for a reason, at exactly the right time!