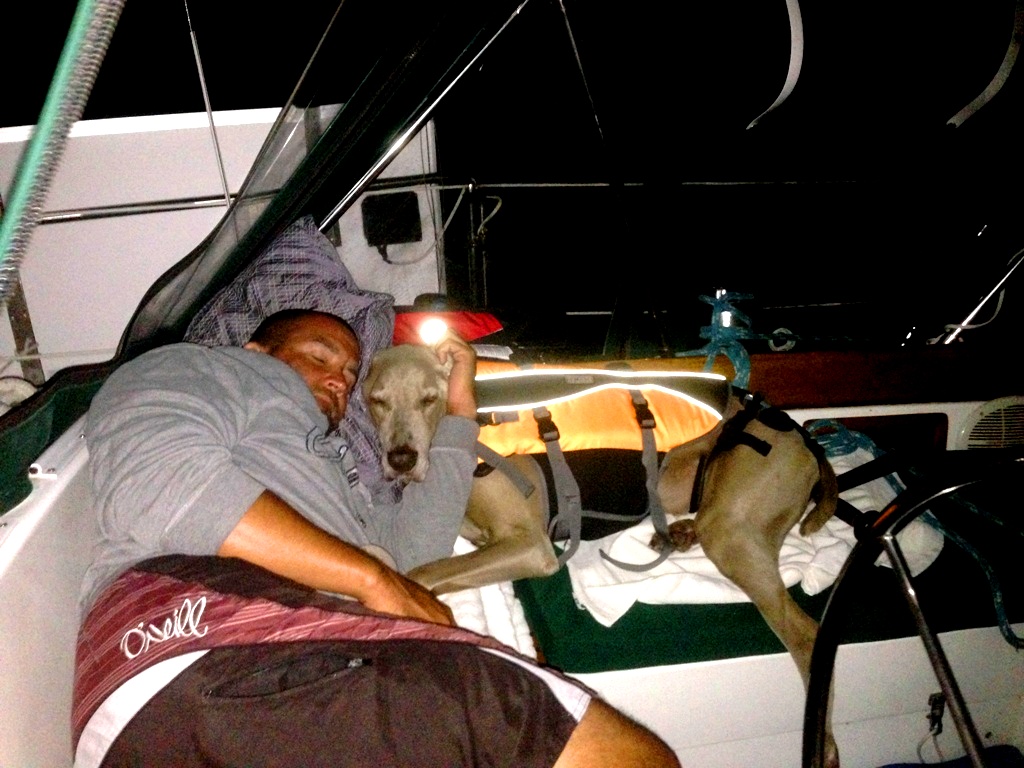 After the strange happenings in Bahia Escocesa, we motored away from the shores of the Dominican Republic past Cabo Cabron and took turns resting throughout the night. The sun came up and the rare weather window we had been carefully monitoring held steady with 2-3′ waves and 5-10 knots of wind in the Mona, just as predicted. We trolled the fishing lines and barbequed lunch on the aft deck enjoying our most pleasant passage yet.
Van Sant's guide recommended staying North of the Mona Passage, far away from the treacherous Hourglass Shoals and afternoon storm cells gaining strength from Puerto Rico's coast and that's just what we did. Of course the wind is always on the nose, no matter which direction we are going, so we motorsailed across The Mona Passage as quickly as we could before our golden window collapsed.
Peter hooked a good-sized Sierra Mackerel, but unfortunately that's all the fish gods gave us between the DR and Puerto Rico. We still had plenty of fish in our freezer so this one was all for the dogs. We supplement their dry food whenever we can and they are always happy to get a hearty portion of raw fish in their bowls.
We approached the shores of Puerto Rico before the sun came up the morning of May 6th and had made way better time than anticipated. Still taking advantage of the weak night lees of the West Coast of Puerto Rico, we continued South by East before arriving at La Parguera around 8am. Just outside the little town, we anchored near the mangroves and fell fast asleep. After 3 months at sea, we were finally back in US Territory!!
Thanks for reading!! Stay tuned for pictures and stories of how we spent almost the entire month of May in Puerto Rico and the Spanish Virgins, then all of June in the BVI!! We are currently on our way south to Grenada for the remainder of Hurricane Season… Leave us a comment, we'd love to hear from you!!!