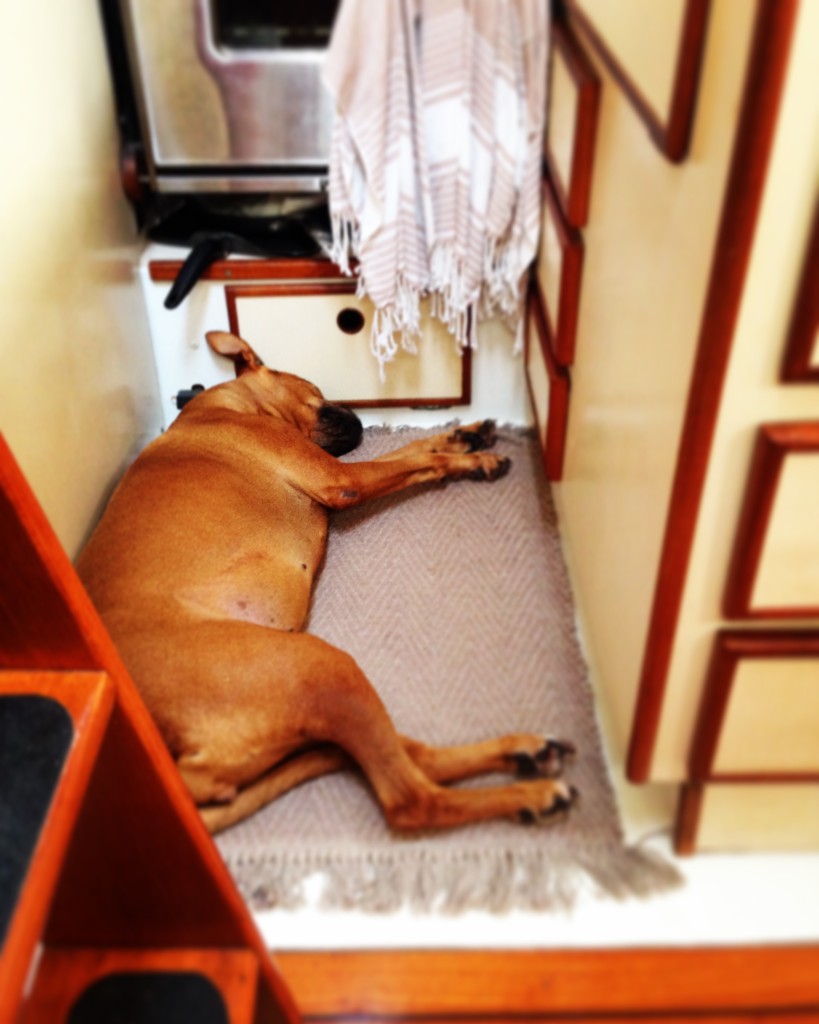 The last week has been difficult for us all after the loss of our sweet boy, Gunner. Our broken hearts will never be the same again.
He was by my side for so many years, it just doesn't make sense for him to be gone.
I can still hear his impatient bark at 5:00 to let me know it's time to eat dinner. I can still hear the scraping of his nails on the floor when he would have wild running dreams. I can still feel his soft ears against my face when I would cuddle with him. I can still see his legs stretch out so far as he rolled on his back waiting for someone to scratch his belly. I can still feel his wet nose touch mine when he would ask for a piece of my food – the only trick he knew – to give kisses for a treat.
Time seems to stand still and our tiny floating home feels so empty. I miss my boy.
We all miss him.
Yesterday, Betsy laid in 'his spot' on the rug in the galley. It was his very favorite spot to lay in the whole boat – I think because it was the same size as his old crate. He felt safe in there. Betsy had never laid in there before, maybe because Gunner was always there, but never even when he was somewhere else. It's the first time I've ever seen her lay there, and she stayed there all day. She usually prefers to be on the couch or the bed, but since Gunner has been gone she has been laying in his favorite places or at my feet.
We are giving her extra love. It helps her and it helps us. She misses her brother just as much as we miss him too.
It's been so hard to motivate myself to do anything. It would be easier if I had a job to be distracted with but all the boat projects just seem to not matter right now. We'll be working soon enough but for now its just so hard to get through the day.
If you haven't seen the tribute article I wrote for Gunner, please take a few moments out of your day to hear our story and see our adventures together here: http://www.wherethecoconutsgrow.com/2015/11/for-gunner-with-all-my-love