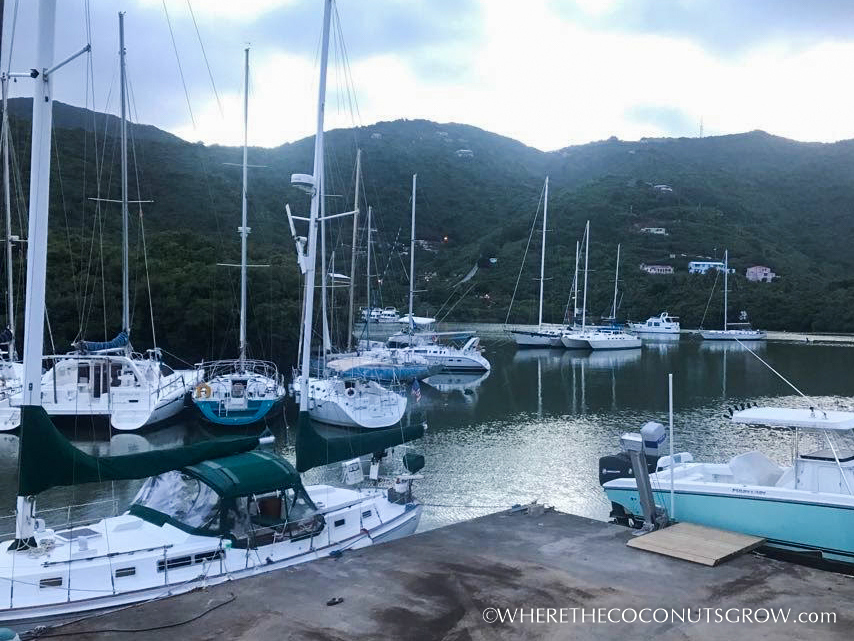 It's Hurricane Season here in the Caribbean and we've got a new backyard view! We've actually been here since just days after Brig was born but it's been hard to find time to keep up on the blog during these first newborn weeks ;)
…
It's a time of year where anxiety can make you sick to your stomach. When your home is floating in the path of a potential named storm, all kinds of thoughts start racing through your head.
We spent our first two hurricane seasons down in Grenada, which is statistically in a zone that gets less hurricanes, luckily without any action.  Last year we hauled out in BVI and this year we are staying aboard in BVI. So far we have not experienced any named storms (knock on wood!) but we are always making sure we're prepared.
This year has already been fairly active and there were a few systems that looked like they were coming our way but either dissipated or redirected before reaching the Virgins. Peter and I have spent countless hours discussing what we would do in the event of a named storm.
While we trust our mooring ball (that we've spent the last two years on) in heavy weather, we don't necessarily trust it in a named storm especially because now we have Brig. For the duration of Hurricane Season this year we decided to move our boat into a marina that is tucked way inside a designated hurricane hole here on Tortola just so we don't have to worry about moving it if something comes up. Also, since we have to wait until the end of September to get Brig a passport, we can't just haul our boat out of the water and fly back to the states to wait out the rest of the season there like we did last year. Not to mention, it's incredibly expensive for us to do that. Aside from sitting on a mooring, hauling out, or moving to a dock, the fourth option would be to anchor out and hope for the best. We know a few people that have literally been the last boat floating while being anchored in a major storm.
Unfortunately, there are very few spots in BVI to anchor your boat – let alone considering if they would be safe. There are so many mooring balls installed for the charter boats that it leaves very few places left to drop the hook. Given our options here in BVI, we are pretty happy with our current situation from a safety standpoint. We will make every effort to secure our boat the best we can in a named storm, but when it really comes down to it, we're insured. In fact, I've been finalizing our renewal this week. It's definitely a relief to know we are completely covered for crazy things like hurricanes.
…
While I ABSOLUTELY despise being tied to the dock, it does have a few perks. For one, the Virgin Islands are H-O-T this time of year so being plugged into shore power allows us to use the air conditioning 24/7. Well, it actually requires us to run the A/C 24/7 because if we didn't we would roast. Its even hotter tucked away inside this hurricane hole than it would be back on our mooring in West End. There are also a ton of mosquitoes when you're close to shore so that's another reason we have to keep the boat all closed up. Even though I'm not pregnant anymore, I'm still concerned about Zika. I must admit it's also nice to have air conditioning when I've got a fussy baby though. Secondly, it makes it much easier to take Betsy for a walk. She can practically take herself potty – something she can't do from our mooring.
Then of course there's the fact that we can park our car right next to the boat, there is laundry, a gym, our favorite restaurant, and a little grocery market all within a very short walk. Sure it's convenient, but it's just not the same as floating out on the water away from everyone else. I look at dock life like being in an apartment complex and our mooring as more like a neighborhood with big spacious lots :)
I cannot wait to get back to our beautiful home in West End!! Yes, I'll probably miss the air conditioning, but I sure do love when the fresh Caribbean breeze blows through our hatches to cool us down.