After a rough passage from the Bahamas, the auto-pilot did a beautiful job bringing us through the last leg from the Crooked Islands to the shores of Turks and Caicos. We arrived at the Southwest Reef just off West Caicos in the early morning hours of April 23rd. The water was crystal clear and everything seemed so still. We could see the bottom perfectly in 60′ depths.
With no other boats in sight, we guided the Mary Christine in towards a recommended anchorage on our charts. We decided to fly the Q(quarantine) flag instead of checking in to customs and immigration since we were only stopping for a few hours to rest our weary eyes before continuing on to the Dominican Republic.
While it might have been nice to explore Turks and Caicos, their procedures for clearing in and out were less than desirable. From what we understand, an 'up to 7 day' visit (including stopping for fuel) will cost you $50 for inward clearance and another $50 for outward clearance. Weekends are $65 each way. If staying more than 7 days, a cruising permit must be obtained for $300 (good for 90 days). Spearguns and Hawaiian slings are also illegal and must be brought in to Customs when you clear.
The requirements for bringing the dogs to shore in T&C was out of the question. The blood Titer test is mandatory, along with a USDA approved International Health Certificate. Both of our dogs are rabies-free, totally current on their vaccines and flea/tick/parasite medications, and have a clean bill of health and regular International Health Certificate. T&C had quite a laundry list of requirements for pet importation permits. (Future post in the works with all the details of what we have learned taking our dogs to each of the different countries). Revolution isn't even good enough to cover their flea/tick/parasite prevention requirements! If we were to send out for the Titer test with USDA approval it would cost us upward of $800 for two dogs. Since we don't plan on staying in any of the Caribbean countries very long, we opted to not jump through these ridiculous hoops. The dogs are just fine staying on the boat until the next time we reach shore. This country won't be getting our money!
The heat was almost unbearable with zero breeze. We managed to find a little relief inside the cabin with ice packs on our necks and a few popsicles to cool our bellies. Our air conditioning requires the generator to be running and the generator is temporarily out of service. We will be doing some repairs once we reach the DR. Despite the heat, we soon fell fast asleep anchored safely just behind the reef in a welcoming patch of sand.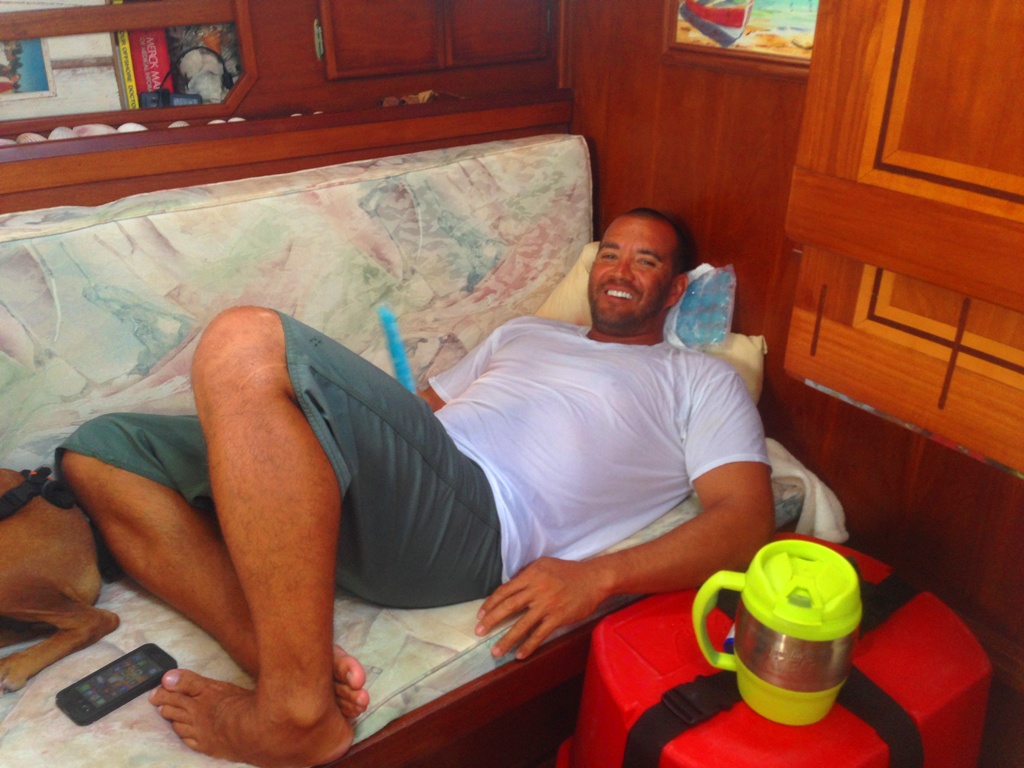 Later that afternoon the beauty of the turquoise blue reefs called us out to play. Peter inflated one of our Tower Paddle Boards for us to ride tandem out to the shallows not too far from the boat. Beyond that reef was open ocean and we could feel the colder water spilling in to mix with the 82-degree bathwater. We put on our fins and masks and towed the iSUP behind us taking a quick peek at the beautiful underwater world that neighbored us.
I felt much safer hanging onto the edge of the board after we both saw a reef shark lurking nearby. There was no real danger but it was nice to know I could pop up on that board anytime if we saw anything larger checking us out. The lingering trauma of our bull shark encounter still gives me the heebie jeebies!
We also saw several big snapper, a curious barracuda, a few lobster, pretty coral and a hundred different colors of little reef fish swimming all around us. There were blues and purples and yellows, oranges, reds and greens. Some were translucent and iridescent while others were bright and neon. Fish swam in and out of every nook and cranny of the coral.
As the evening hours set in, we left West Caicos following our tracks around the reef in the dark. The only lights were our own. This next passage had us headed for the Dominican Republic.
The Equatorial Current did a number on us, pushing a good 3 knots all night. The sun rose and another gorgeous day was upon us.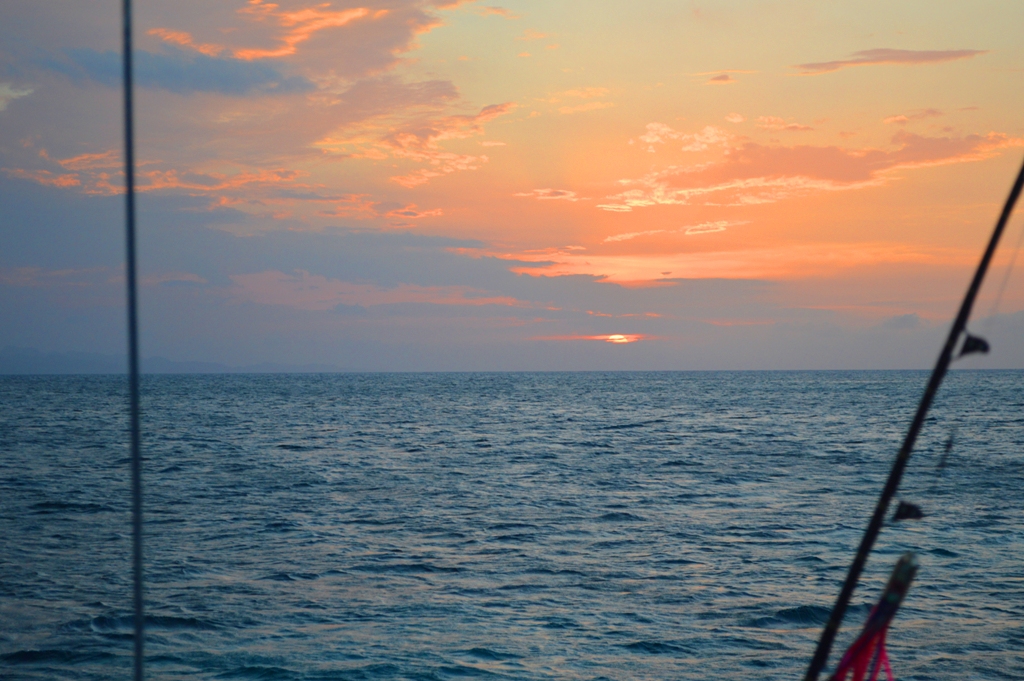 Within minutes of the lures hitting the water, Peter was hooking up left and right.
Our biggest Mahi Mahi yet…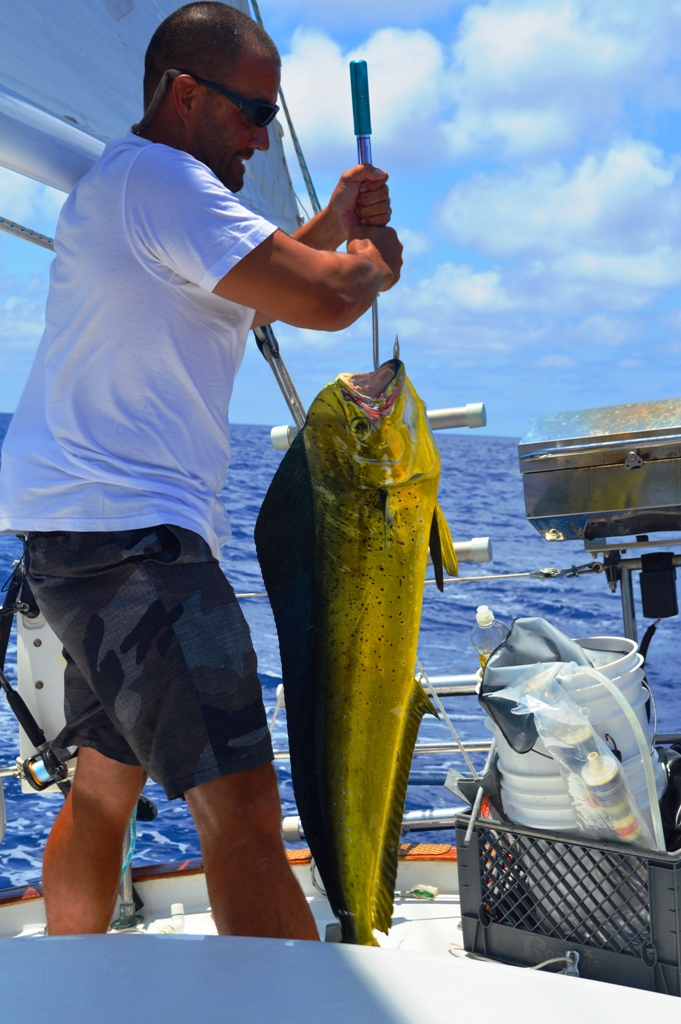 They kept coming. As soon as we fileted up one fish and cleaned up the bloody decks… "FISH ON!" Eventually we had to put the rods away. You can only clean so many fish in one day while underway!! The best part? Fresh sushi for lunch!!
When Mahi Mahi die, they change color as they bleed out. Their scales turn to an icy blue, then back to yellowish-green.
This poor guy got DOUBLE hooked on both of our trolling lines. Peter and I were each reeling in a line and by the time we discovered it was the same fish, a shark came up and whacked him!! It was pretty cool to see. This fish was destined to be somebody's lunch that day :)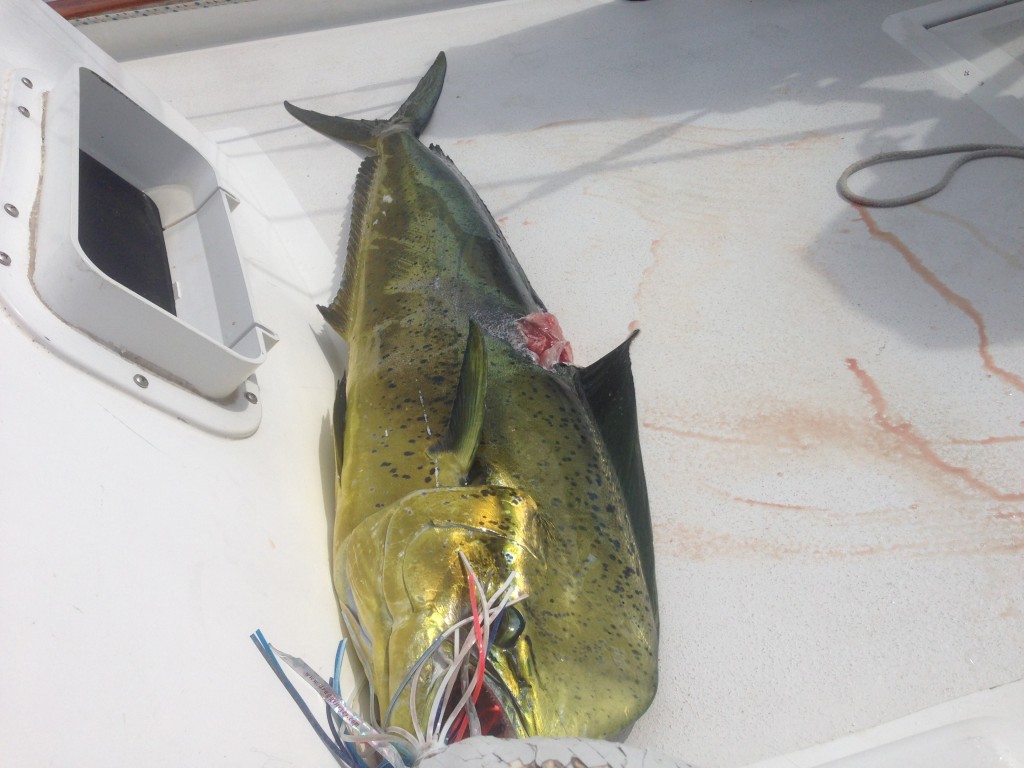 When the boys had their fill of fish for the day they cuddled up for a nice afternoon sail.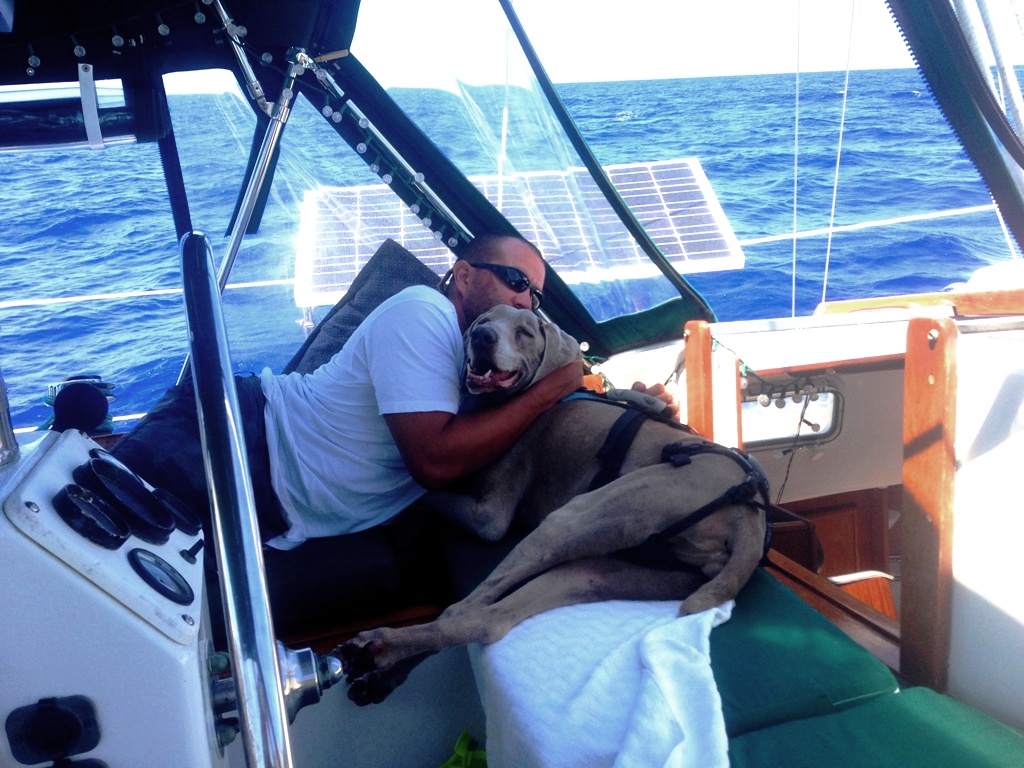 Our course was plotted for Luperon but as the current held strong, our ETA slowly pushed out from 6:00am to 11:00am. Thanks to recommendations from Bruce Van Sant's A Gentleman's Guide to Passages South, we adjusted our course a bit further west to a little bay called Ensenada. We could have pushed on for Luperon if we didn't mind getting beat up. It was imperative we get anchored before the night lees die and the tradewinds pick up after 8am. The sunrise and glimpse of the mountains of the DR were breathtaking. Peter and I both had an overwhelming feeling of awe and gratitude for making it as far as we had.
Ensenada is absolutely magical. One of our favorite anchorages, hands down! As we coasted in to the sleepy little anchorage, a hundred white butterflies engulfed our boat. The color of the water was spectacular. Clear and clean and the prettiest shades of turquoise we had seen in a long time. Birds were chirping and the sun was shining. We began wondering why it took us so long to get through the Bahamas!
Ensenada is a secluded harbor on the north coast in between the official ports of entry of Manzanillo and Luperon. Punta Rocia is the name of the village and the local Coast Guard came out to greet us. They informed us we could not stay long because they didn't have the ability to clear us in. We were allowed to rest for a few hours and leave as soon as the winds let up. They asked us to leave by 6pm but we stayed on for a few more hours after they were off duty. They didn't seem to care that in order for us to arrive at Luperon in safe daylight hours, after sunup but before 8:00am, we had to wait to leave Punta Rocia at 9:00pm or later. In any event, the coastguardsmen of this remote village were very laid back and polite nonetheless.
We enjoyed a refreshing swim and explored the surrounding coral. Betsy and Gunner were happy to be standing still at anchor again. On her first patrol, Betsy discovered a stowaway… another flying fish landed on our decks while underway. We saved this little fishy for bait.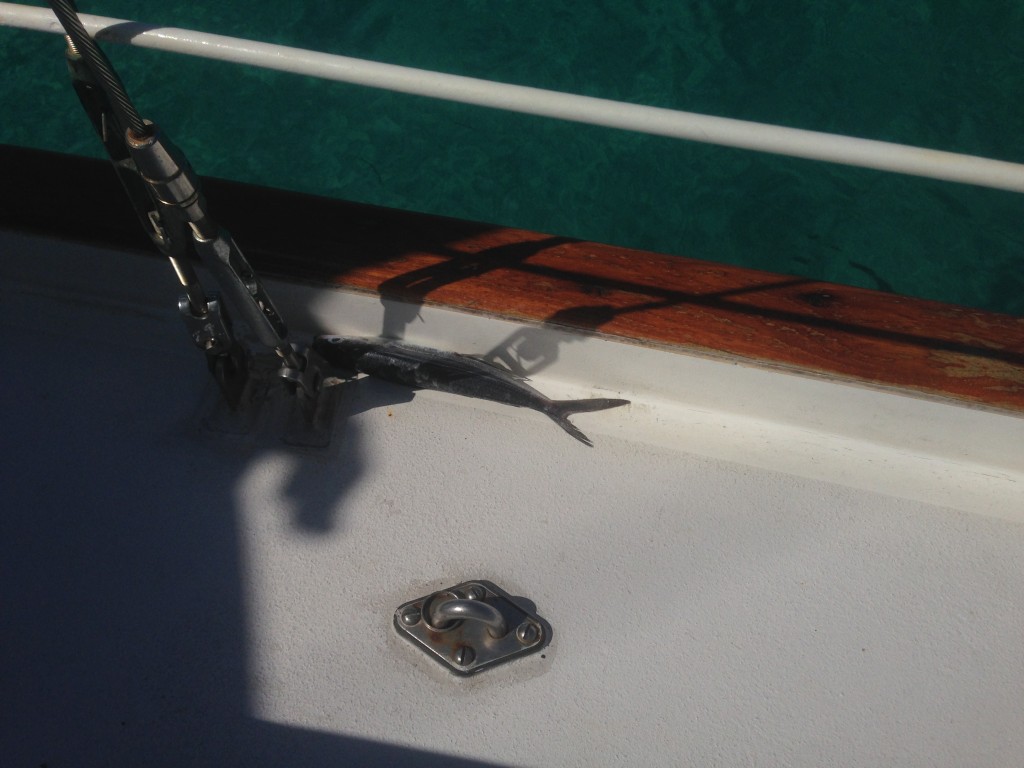 A nice afternoon nap was just what we needed after our long journey. HELLO DOMINICAN REPUBLIC!!