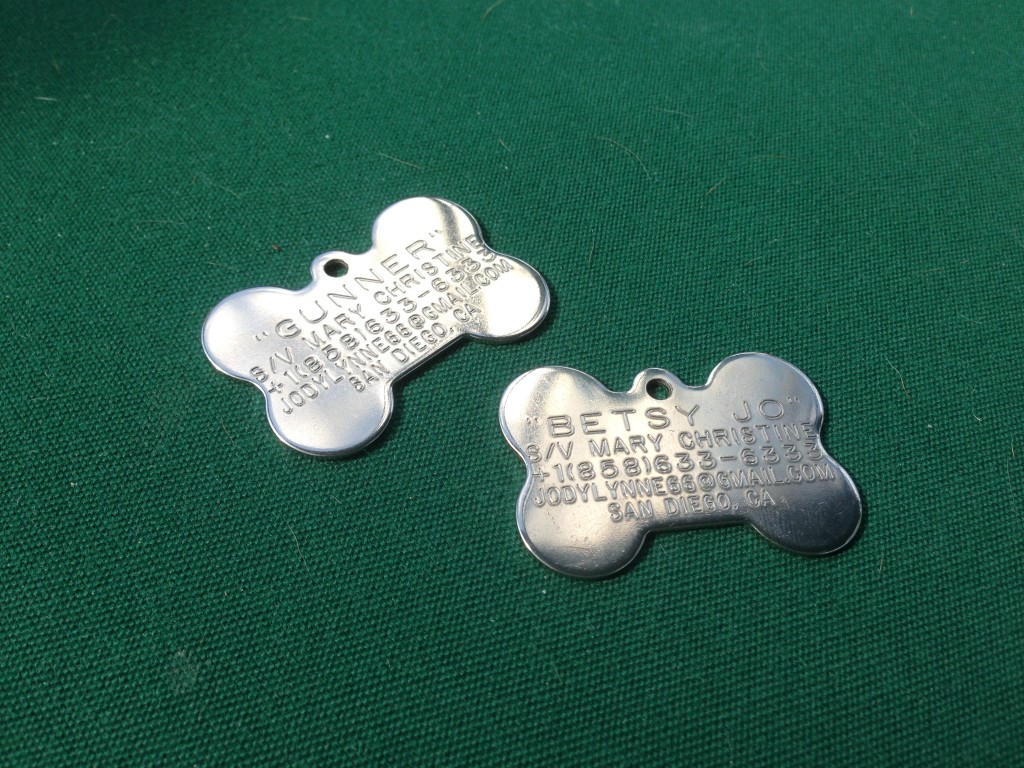 That's right. Some shiny new jewelry for Betsy and Gunner!!
Okay, well they're really just ID tags but Betsy SURE was excited to have a new pretty jewel for her pretty collar :)
I'm not sure if Gunner ever had a tag with his name on it. (Bad mommy!!) He had licensing tags and he used to have a tag for his chip number, but those have all been lost long ago. He actually doesn't even have a collar anymore. He was getting all clean and handsome while his daddy was brushing him on the dock a few weeks ago and they decided to take his collar off to get a good brushing on his neck. When he was all done Peter put the choke back on him to get him back on the boat. We use a prong collar for attaching his leash since he still has a problem with lunging out at anything that moves. It doesn't hurt him, but helps us have a small amount of control if he decides to yank the leash out of our hands. Some time between then and later that evening we noticed his waterproof collar was nowhere to be found. No doubt, it ended up in the water and settled down in the murky sand beneath our boat never to be seen again.
Back home we could have gone into the local pet store and printed up a super quick and easy ID tag for the pups, but now that we live on a boat everything is a bit more complicated.  Every purchase we make, everything we bring on the boat has to be thought out in advance to make sure it meets certain criteria:
Material: How long will it survive in the salt, the hot Caribbean sun, and the humidity
Function: How many purposes will it serve? Its ideal if everything we own has at least 3 purposes (this saves on cost and space)
Size: How big is it? Do we have a place to securely stow it while under way?
Cost: Can we get it cheaper somewhere else without too much hassle? Are there discounts in bulk?
We knew we had to have ALL STAINLESS STEEL for our pet ID tags, and not just a crappy kind, but we had to make sure it was marine grade stainless steel to hold up to the salt water that we'll be (literally) swimming in daily.
Function here is obvious. If our adventurous pups get separated from us for whatever crazy reason, we want them to have some sort of ID on them to increase the chances of being returned to us. This is a MUST HAVE before we leave the dock.
Size? Well, no brainer, they are teeny tiny and stay on the dogs at all times.
Cost? This one is kind of tricky. We could have gone for a cheapo kind for less than $3 a piece. Marine grade stainless steel is going to cost a bit more of course.
A common problem for companies that make pet ID tags is that most of them don't let you use that many characters per line. This was a challenge for us because our boat name is 15 characters without spaces or '/' marks. Betsy has her chip tag and she also used to wear a very pretty heart ID tag but we decided we needed some critical information on their new tag that Betsy's old one didn't have. We wanted to make sure to put our boat name on the tags so that if they were to get away from us while cruising, whoever found them would know they belong to S/V (sailing vessel) Mary Christine. We also wanted to use a Google Voice phone number that we would have access to via wifi. If something happened to one of the dogs I'm sure we would do everything we could to get within reach of wifi in hopes that someone is trying to contact us. We also wanted an email address on the tags since it's a pretty universal method of communication no matter what country we are in. Although some places we visit may not have internet, most of them will and this is really our best shot at being reached while cruising. We put our hailing port on there as well so if someone sees our boat, maybe they will only remember the San Diego part instead of the Mary Christine part. The more info the better. Both dogs are chipped and we'll update that info too but we're not sure that the places we'll be visiting will have the scanning capabilities for the chips.
After a lot of reasearch we decided to order from Boomerang Pet Tags. Free shipping, no tax, international orders welcome, discount bulk pricing… but most important feature was the non-magnetic stainless steel they use with engraved lettering instead of stamped. We got two of the bone shaped SS tags for a little less than $10 each and they are totally worth it. They are made of the right material and they got all of our lettering on there!