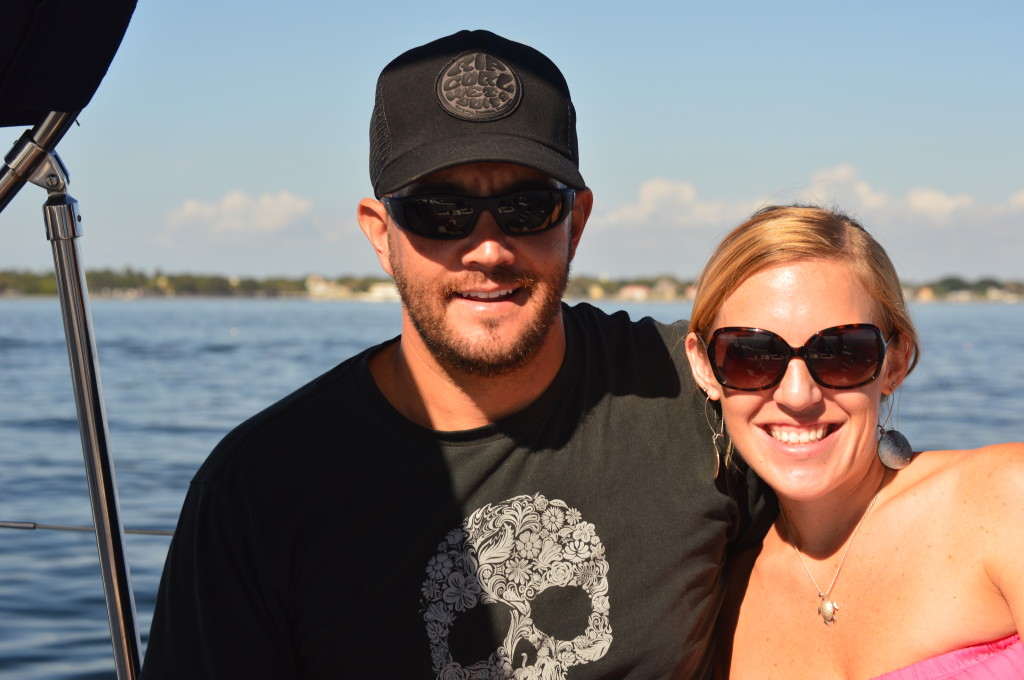 We are back safe and sound after a weekend trip 2 hours north to Saint Petersburg for the boat show. It was a last-minute decision to make the journey north, but we're glad we went. The puppies got to go with us, of course, and they got to lounge around the hotel while Peter and I were at the boat show both Saturday and Sunday. This show was much smaller than the Fort Lauderdale Boat Show and we got out of St. Pete with significantly less damage. There were just a few items we wanted to check out – solar panels, lazy jacks, anchors, and spear guns. We're already pretty set as far as equipment and upgrades but its worth checking out the deals at a boat show if you get a chance. There were also some great seminars and special events going on that we were excited to see.
Sailing Florida Charters had an awesome program going on that Peter and I didn't want to miss! They were offering FREE 45 minute sailing cruises with paid boat show admission. All we had to do was show up, get on the boat and enjoy a nice little jaunt out on a Catalina 445. We'd choose to get out on the water any chance we get. While we can always take our own boat out anytime we want (weather permitting) its nice to be able to hop on someone else's boat for a relaxing cruise. There wasn't much wind and we only motorsailed but it was still fun to play with the sails on a 2010 Catalina! Our view of the boat show was much better from the water :)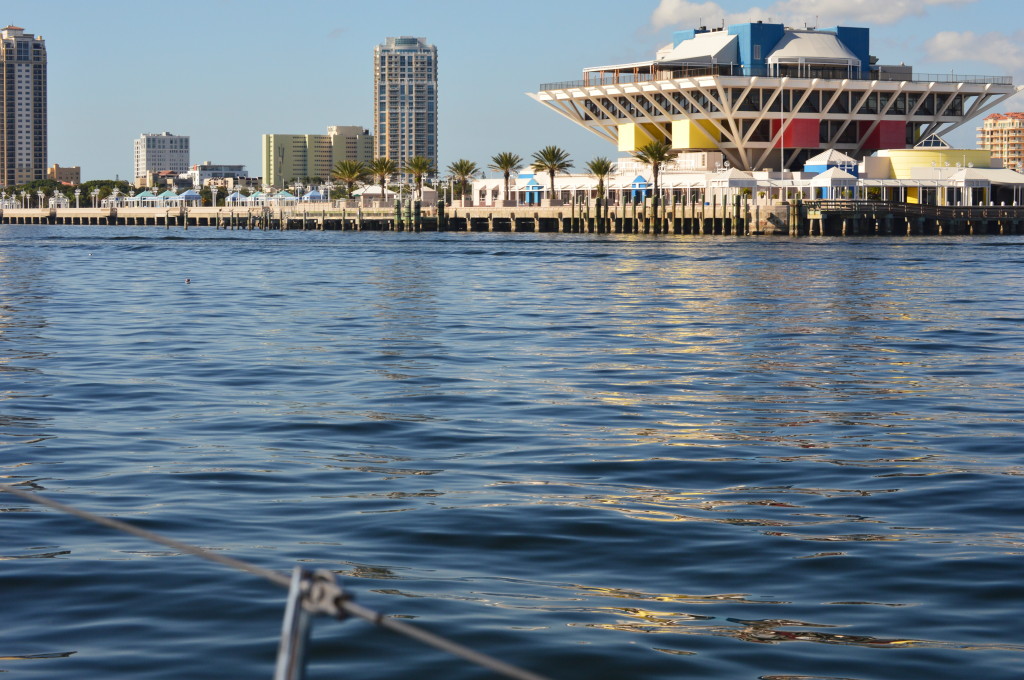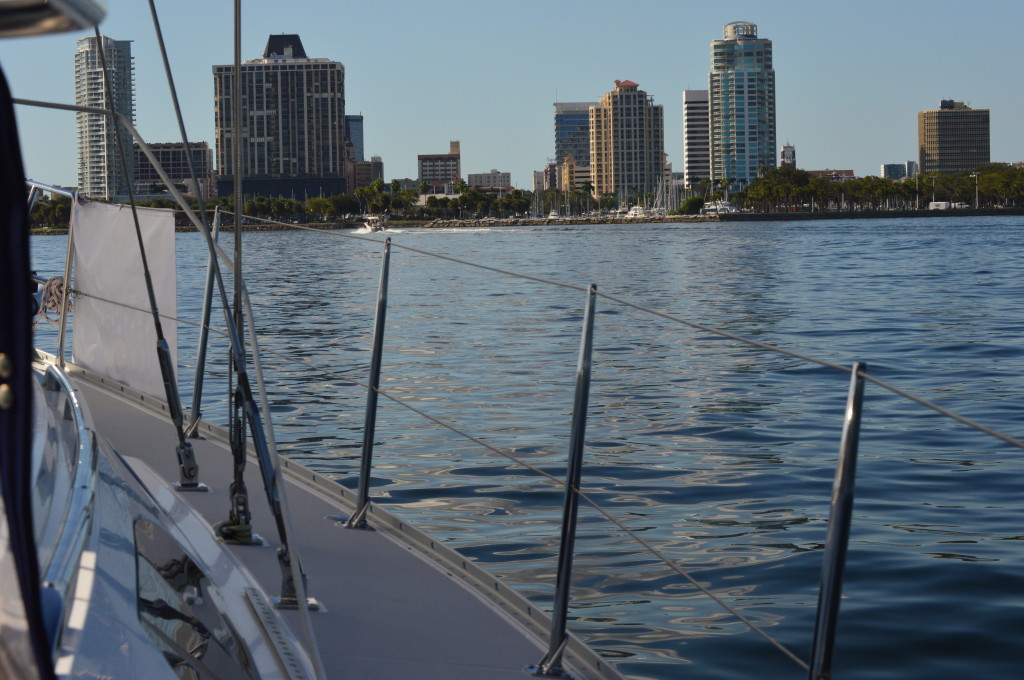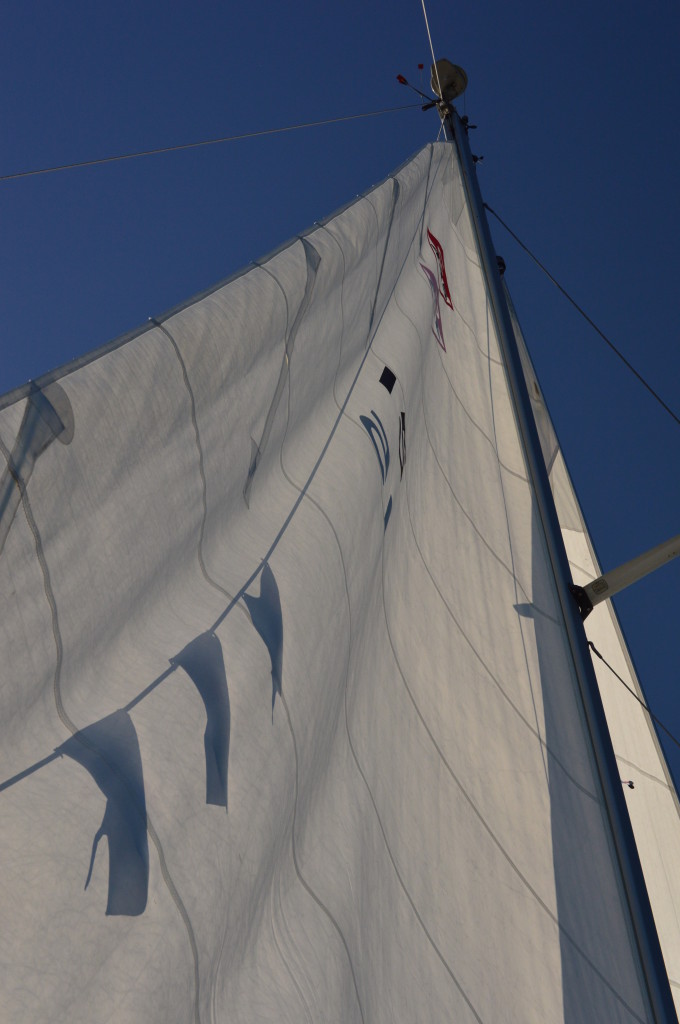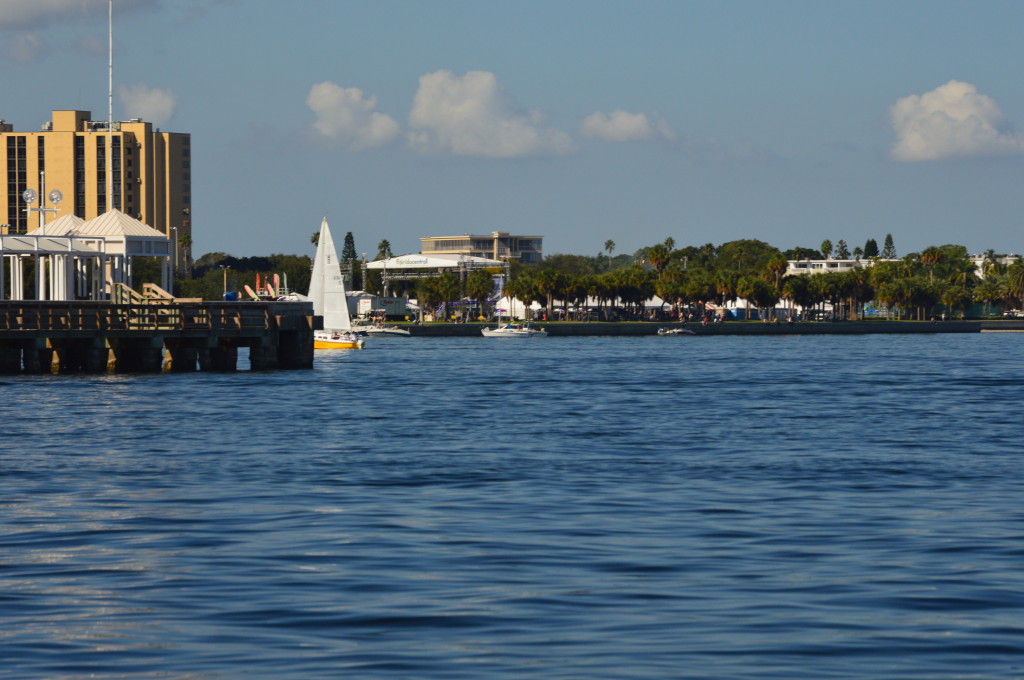 We didn't take too many photos this weekend, we were too busy looking for things we had to have! We did end up purchasing some additional 100 watt solar panels and controllers to supplement the two 80 watt panels we have on the boat now. A post about those will follow as soon as they are shipped to us :) They are really good quality and the efficiency is probably double the ones that came with the boat. Hopefully we will have more than enough juice to power the new radar and freezer we are installing ;)
There were a ton of great seminars at the show too. We really wanted to see Chris Parker in action talking about the weather. We ended up getting one of his books and talked with him about the customized forecasting service he provides. There was a lot of great info he went over but we're going to need to read his book a few more times to really get a handle on it. Weather is no joke and we need to make sure we can read the weather and how to watch for weather windows before making a passage. Peter is practically an expert already but I have a lot to learn!!
Another seminar we went to was Bob Bitchin's "How to keep a starboard attitude while cruising." Wow, this guy is a trip!! He really knows what it means to be Livin the Dream. And, his wife's name is pretty "bitchin" too – Jody with a Y!! A little bio on him from the boat show program: Since the early 60's, adventure has been a way of life for Bob Bitchin. He worked as a traveling companion and bodyguard for famous motorcycle daredevil, Evil Knievel. Then in the early 70's he started sailing and for over thirty years he lived aboard sailboats and cruised most of the Pacific and Central America.  In 1996 he created Latitudes & Attitudes Magazine. Currently Bob and his wife Jody are creating a new title, Cruising Outpost, which will launch this winter.  www.cruisingoutpost.com . Bob has written seven books: Letters from the Lost Soul, The Sailing Life, Brotherhood of Outlaws, BIKER, Emerald Bay, King Harbor, and Starboard Attitude which was released in June of 2011. – See more at: http://www.showmanagement.com/st_petersburg-boat-show/event/seminars/418#sthash.VMZwJGA5.dpuf
Last but most certainly not least, we got to meet Kim and Jereme from S/V LAHO (lahowind.com)!! We chatted with them for a while about our boats and cruising plans. We definitely have a lot in common. They will be setting sail around the same time, from almost the same starting point, with about the same experience, going in the same direction, without time restrictions, and even with the same furry four-legged kind of crew!! We hope to meet Oliver soon and hopefully Betsy and Gunner will have a new cruising buddy :)
The drive back home to our cozy boat was beautiful as well. Its always fun to see new places and experience a bit more of Florida before heading to the Bahamas.