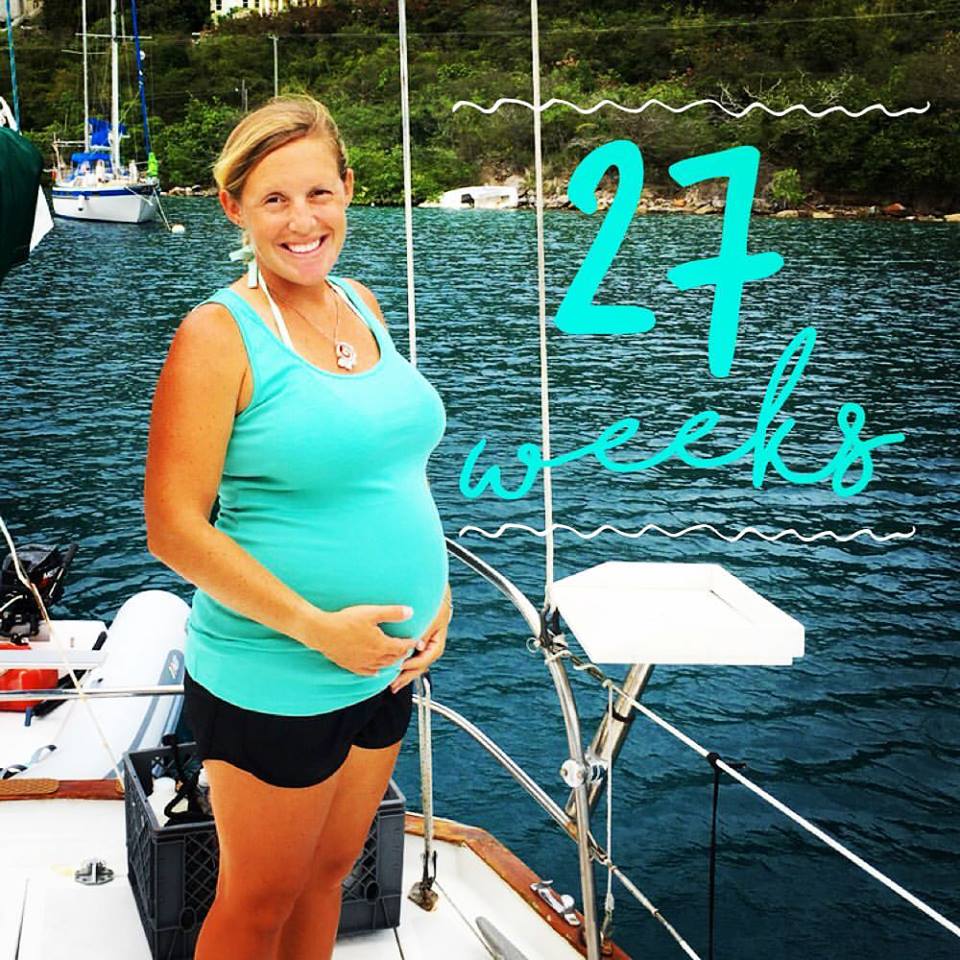 Tomorrow I will be 30 weeks pregnant, anxiously awaiting the arrival of our little boy. The time is flying by!!
A few people have asked if our pregnancy was planned. Let me start with a little history…
When I chose to move onto a sailboat and travel the world, I knew it required a certain level of planning in many different respects. Before leaving the convenience of health insurance, pharmacies and our regular doctors in the States, I stocked up on as much birth control as my doctor would allow because back then we weren't ready to grow our family just yet. From that point forward, we knew all of our healthcare would be out of pocket and further limited to the availability in each country we would visit. It was an expensive upfront cost instead of being spread out as a monthly expense but it made sense to get the kind I wanted when I had the opportunity.
While I was asking seasoned cruisers on Women Who Sail what options I had for birth control in the Caribbean, other cruisers newer than me were asking me the same question. It's a valid concern and one that doesn't come with an easy answer.
After spending several years in the Caribbean I can without a doubt say from personal experience, it's not easy. It depends on if you want or need a specific formula of pill, or specific form of birth control (ie. IUD, etc.). I've heard from others that the Bahamas will provide birth control if you need to refill a prescription. The Dominican Republic is incredibly cheap for all types of medications and most do not require a prescription, though translating what you need to a generic brand in Spanish is not always easy to do. Puerto Rico and USVI are of course the easiest for American Citizens to access familiar brands. Its my experience that anywhere past USVI you pretty much get whatever they have in stock, which may or may not be what you need or are used to.
I was always intrigued by a post my good friend Genevieve wrote about How To NOT Procreate On A Boat. She preferred a chemical-free method of Natural Family Planning (otherwise known as charting) but had later discovered a fertility monitor that tells her exactly when her body is ovulating. Although the device is not intended to be used to prevent conception, her new method apparently does a pretty good job of helping either avoid pregnancy or trying to conceive. Their youngest is now five ;)
***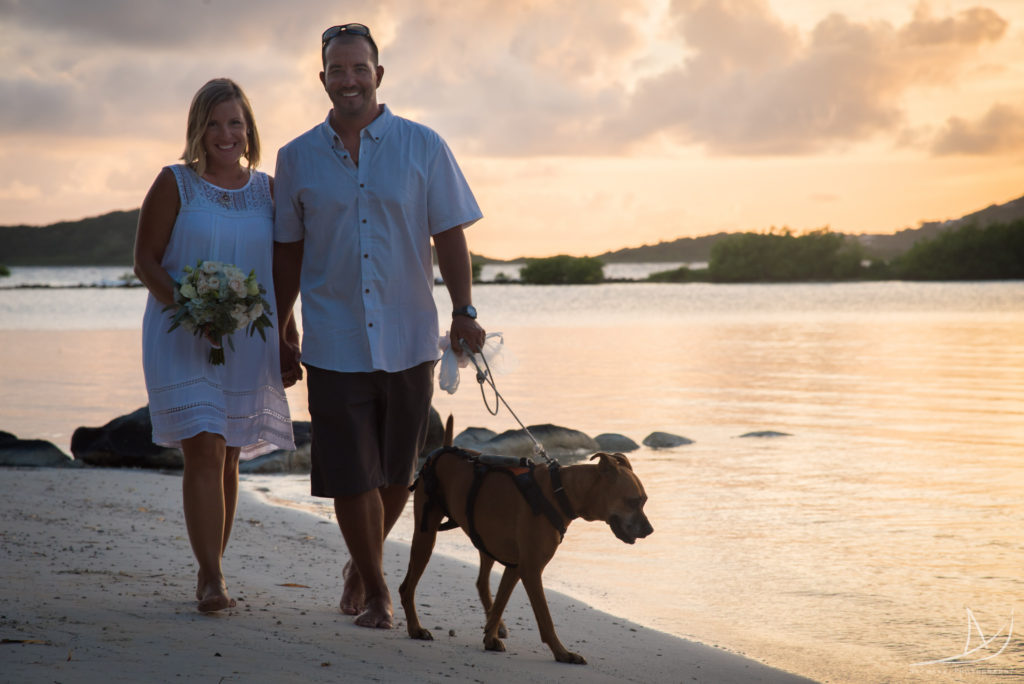 Did we want kids? Absolutely. When Peter and I bought our sailboat almost four years ago, we knew that someday we'd start a family. The question of where we would be at that time didn't matter. We knew plenty of other families with kids on boats all over the world and honestly I never even hesitated at the thought of us still sailing around when we would finally decide we were ready for kids of our own.
It was always in the cards but it wasn't until Spring-time of 2016 that our talks about marriage and kids really started getting serious. Everything all happened kind of fast. We planned on getting engaged as soon as we had a ring for me and literally the very next day off work we went to a nearby beach and I said yes! Our plan was to have a wedding sometime during Summer of the following year so we would have time to coordinate logistics of our families traveling to the islands to celebrate with us.
Around the same time, I had run out of birth control. Long story short, we decided to not get another prescription and let my body reset knowing that it could very well take 6 months to a year before I'd potentially be able to get pregnant anyway. I had also just figured out that the migraines I'd been getting for years were hormone related. Needless to say, I was pretty anxious to stop taking the pill in hopes that the migraines would stop too, and they did. Little did we know, it would only take us 4 months from then to get pregnant…
***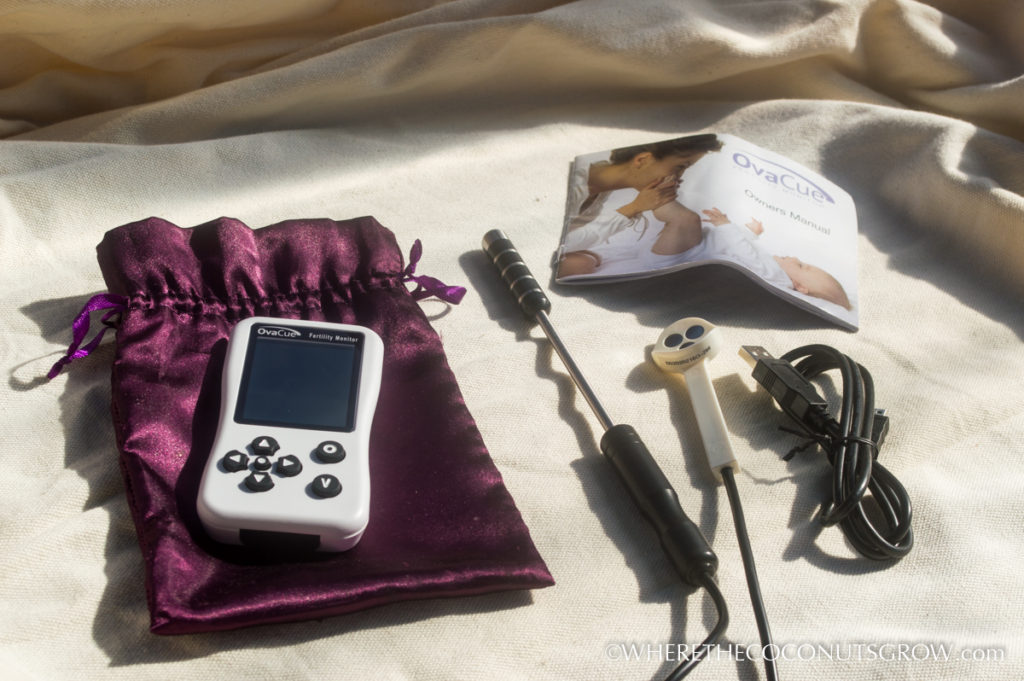 When the time came for Peter and I to switch from avoiding pregnancy to planning pregnancy, I began to research other types of chemical-free fertility monitoring. I knew the price tag on Genevieve's device was high, but I also knew that when we were done having kids I didn't want to go back to being on the pill. I started reading up on the device she had but soon found a different (and cheaper) brand called OvaCue that actually appeared to offer a lot more functionality. Both are more expensive than the store-bought Clearblue Fertility Monitors (and others) but offer way more reliability, positive reviews and features. Without going into too much detail here, the OvaCue Fertility Monitor predicts and confirms ovulation by use of sensors and automatic charting. After doing a little more research I found a chart that made my decision even easier. With more sensors than just a Basal Body Temp thermometer, the OvaCue offered the most benefits.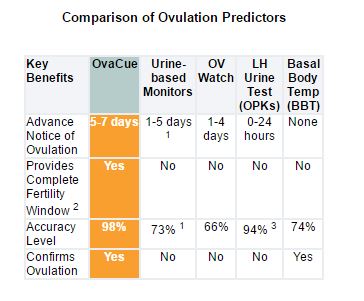 What really sold me was that there were no reoccurring costs, it works for women with irregular cycles and PCOS, but most importantly the traditional model does not require internet access to interpret the readings! The traditional model is a battery operated handheld device that can be used no matter what country I'm in or even if we are disconnected from the internet for days or weeks at a time. An absolute must if I was really going to rely on a system like this.
The cost is high but if you do the math its significantly cheaper than continuously buying OPKs for months on end while trying to conceive, PLUS I'll be able to continue using it when we are ready to avoid pregnancy again, saving on years of birth control costs in the future. Totally worth it to me.
It took a little bit of work and a few emails to the awesome Ovacue Support Staff to get the hang of how to interpret the readings but I caught on pretty quick. I was able to get pregnant on the first cycle of using the Ovacue Fertility Monitor!! Needless to say, I'm very pleased with how it works and look forward to tracking fertility again after our first little one arrives, whether we decide to have another baby or not :)
So to answer the original question, yes we did plan our pregnancy. It just happened a lot faster than we thought it would!
**Disclaimer: The information provided on this website or in this post is solely based on my personal experience and opinion and is not intended to be used as a substitute for professional medical advice. By reading about or purchasing any products described on this website or in this post, you are acknowledging that you take full responsibility for your health, life and well-being as well as the health, lives and well-being of your family and children (where applicable), and for all decisions made by you now and in the future. 
IN CASE YOU WERE WONDERING… We are PROUD to share these awesome products and services with our readers. There are so many different solutions out there for everything we could possibly need, but these are the solutions that work for us.
This post may contain information about a product sponsorship. We gladly accept discounts or samples when a company feels generous enough to support our cause. In return we support the manufacturer or local service by sharing their links and writing about our experience with them. We only seek out sponsorship and affiliate programs from products and services we actually WANT to use and likewise only accept offers for products or services that we WILL use. We are not paid for any reviews we write or feedback we provide. We simply like to spread the word and share great experiences we have had that could also bring joy to others.