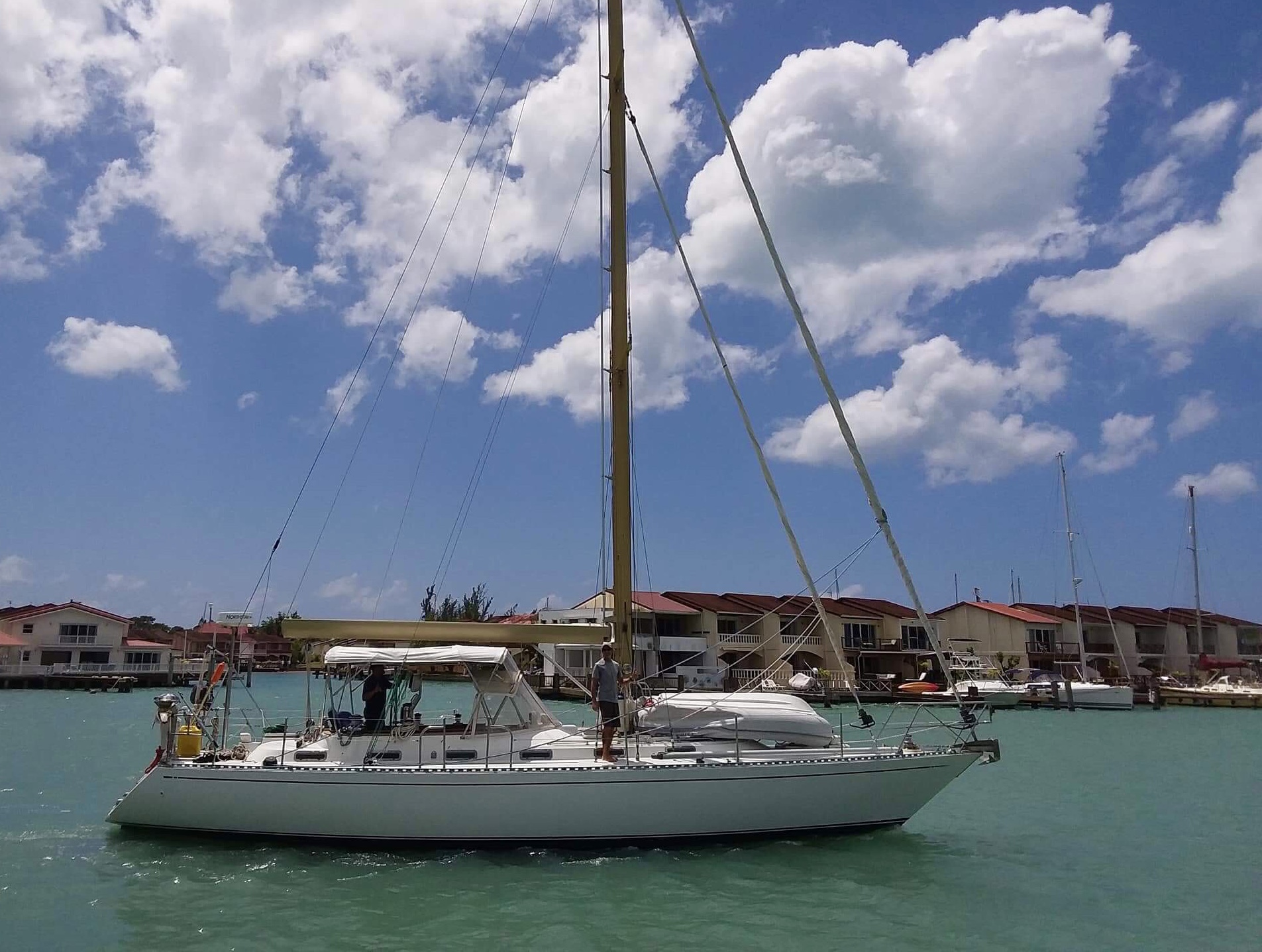 Almost exactly 6 months after Hurricane Irma flipped our world upside down, we finally have a new home!
She's a beautiful 1981 Stevens 47, bigger than our last boat with three staterooms instead of just two. You may recognize the Stevens/Hylas 47 design as it's the same kind that our friends on Totem have sailed around the world over the last 10 years. A true bluewater boat perfect for anywhere our next adventures take us. We will do a renaming ceremony soon to keep the same name we had before, Mary Christine. It's only fitting as our last boat was named after Peter's mom, and she will continue to keep us safe. Our order from DIY Lettering is in the mail now!
***
You'd think that buying a boat would be so much fun. It definitely was fun to search online for awhile, until we'd seen literally every boat on the market and still weren't sure if we'd found the right one. We weren't just looking for fun. We needed a home. We could sit around searching every day for something else to get listed, but instead we made a shortlist of five possibilities that fit our criteria and then started booking plane flights to get us closer to the East Coast.
The last blog update was when we were visiting friends in Georgia over New Years. From there we drove to go see a boat for sale in Alabama that ended up having some undisclosed issues we couldn't look past. Then we flew to Florida where we got to spend a lot more time with family and friends.
We saw another two boats in Florida, one of which Peter really liked. I really did NOT like it but it was affordable and it would get us back on a boat, in our very own home, right away. We already had flights booked to go look at a boat in Antigua and one in Grenada, both of which were our top two choices after months of scouring YachtWorld, so we continued on our way.
The stop in Antigua was brief, just two days, but we got to catch up with our friends Rob and Deb from Cosmos Mariner. That's where we first saw what is now our new home ;) We took a good look at the boat and I actually liked it more in person than on paper. At that point it was a definite possibility but we had one more stop to make to know for sure.
We flew to Grenada and stayed with our friend Steve on Lunacy, a Whitby 42 just like our old boat. It felt really good to be back in a familiar place on a boat that almost felt like home, but kind of strange at the same time. We were still homeless. I loved the boat for sale in Grenada but there were yet again some previously undisclosed concerns that we didn't learn about until we saw the boat in person.  So, we made an offer on the Stevens, but it was rejected. Based on the work it needed we just couldn't justify or afford to go any higher. With that, we flew back to Florida to regroup.
After a lot of soul searching and settling, I agreed to make an offer on the boat in Florida that Peter liked. Long story short the seller wanted more than we were willing to offer and the deal eventually fell through.
With our heads hanging low once again, I remembered there had been a tentative offer on the Stevens after ours. Just for kicks I emailed the broker asking if the boat was still pending or if it fell through. Turns out it was still available. The guy that came to see her just didn't want to take on as many projects as it needed. With some serious number crunching, we made another offer and we were absolutely thrilled it was accepted!
I booked a ticket for me and Brig to go back to Washington State and pack up our things. It's unreal the kind of stuff you can accumulate in such a very short period of time while living on land. Most of it is for Brig but there are a lot of things I needed to buy to replace the rest of what we couldn't recover. Peter got a one way ticket back to Antigua and began preparing our new home.
It will be 5 weeks apart by the time we see Peter again… we fly out on TOMORROW!! I'm so excited I can hardly stand it. Far too much time apart over the last six months. Our baby is almost walking on his own and he turns 9 months old the day we leave. It's all a blur.
Just how am I going to manage carrying all of our luggage, baby and dog by myself on two airplane rides? My brother, Brandon, is coming with me! There's no way I could manage alone with both Brig AND Betsy. It's an overnight flight out of Seattle so we fly into St Thomas on Wednesday afternoon where Peter will be waiting for us.
He hired our friend Rob to help him get the long list of repairs done faster and to help him deliver it from Antigua to USVI.  They both worked so hard to make it all come together. The first photo above is them leaving Jolly Harbour Saturday morning. Waiting for that next phone call was almost as bad as waiting for the call after Irma. I knew he would be fine but of course I was still worried. They made it safe and sound after a great passage!
…
Still wondering what happened to our old boat? The insurance claim was processed and paid relatively easily, it just took a little longer than it should have. We bought the boat back from the insurance company as part of the settlement and months ago Peter went back to BVI to get her all cleaned up. It was a monumental effort but worth it in the end. He was able to salvage and clean some of our personal belongings but some of it was either destroyed by the rats, water damage and mold, or impact from during the storm.
The most serendipitous part is how we met the guy that bought her. YEP, we sold her!!! At first we thought we would just clean her up and live aboard at our mooring ball until we could find our forever boat instead of buying a replacement that doesn't really suit our needs. Then, Peter met Trent. His boat sunk in Irma and he just needed a place to live so he could continue working in St. John. There was still some serious damage that needed to be repaired, and the boat will never be as seaworthy as it was before, but it was doable. The thing is, Peter wouldn't have felt comfortable selling her to anyone at all, but Trent does fiberglass, teak and finishwork by trade! And he has done many boat refits before. If there is anyone that could make this boat beautiful again it's him.
Trent and his brother Tracy made fast work of getting the mizzenmast detached and basic systems functioning, then they delivered her down to Coral Bay St. John where she will get a little R&R ;) She's in good hands and for that I'm thankful.
…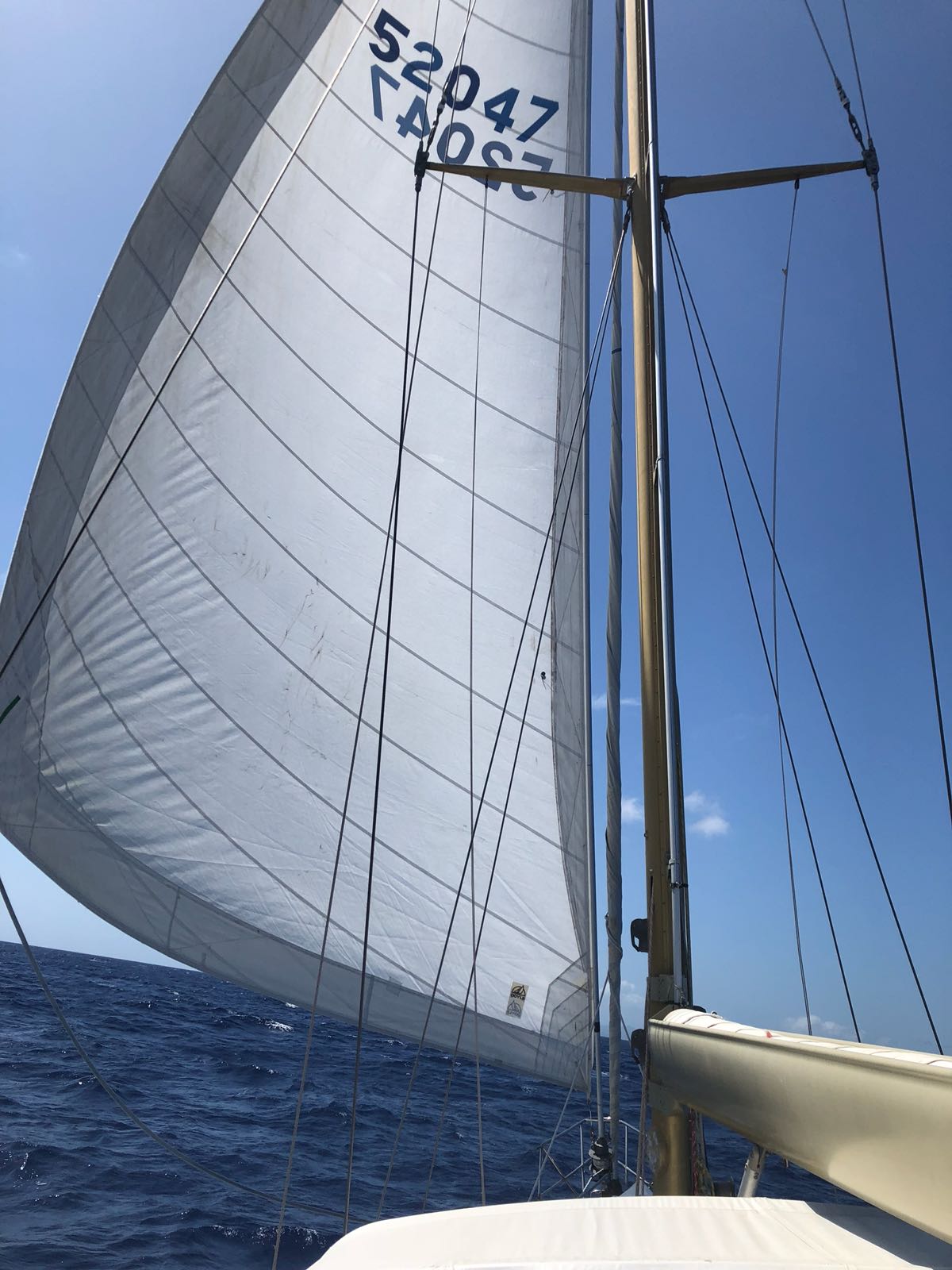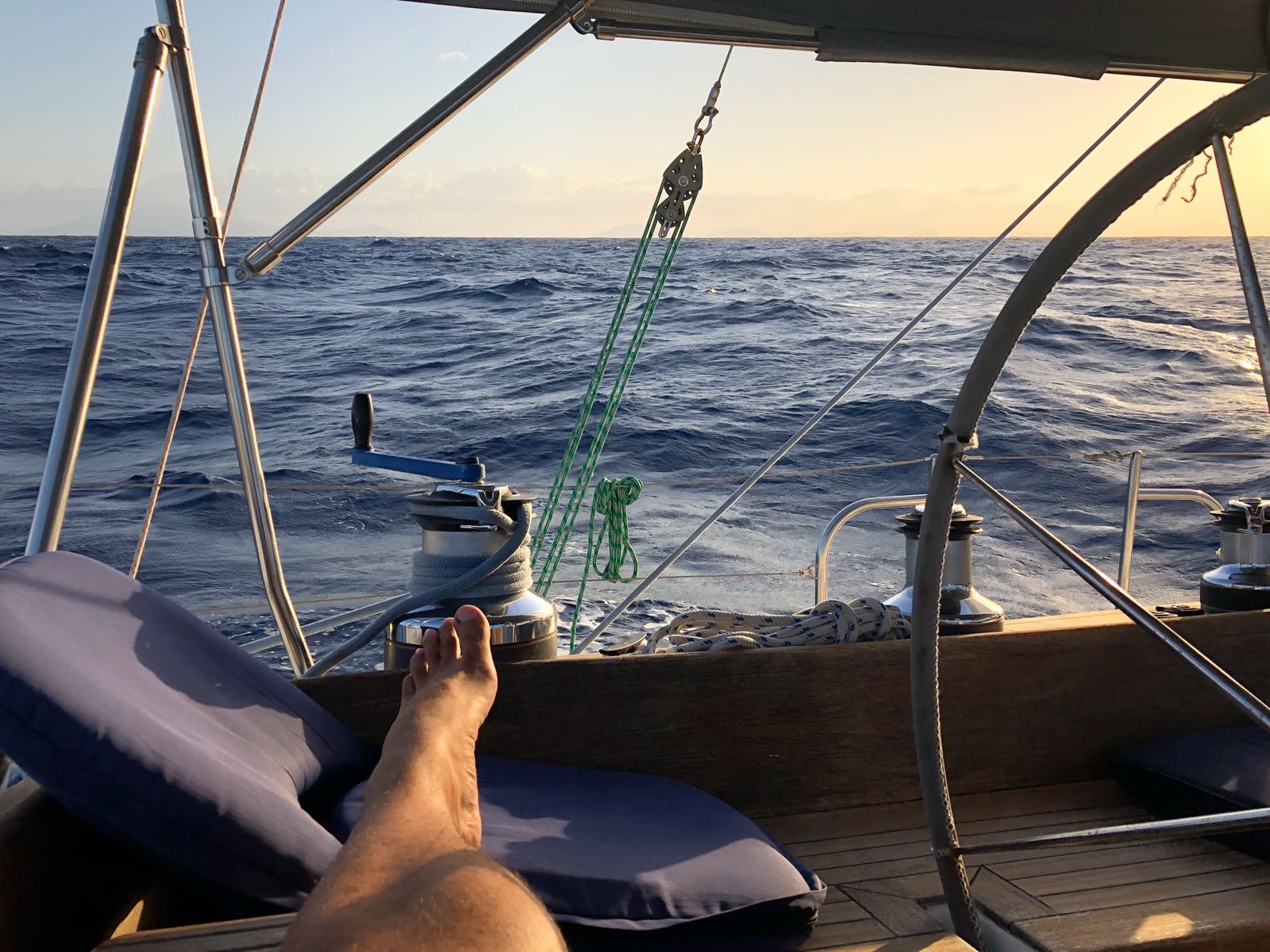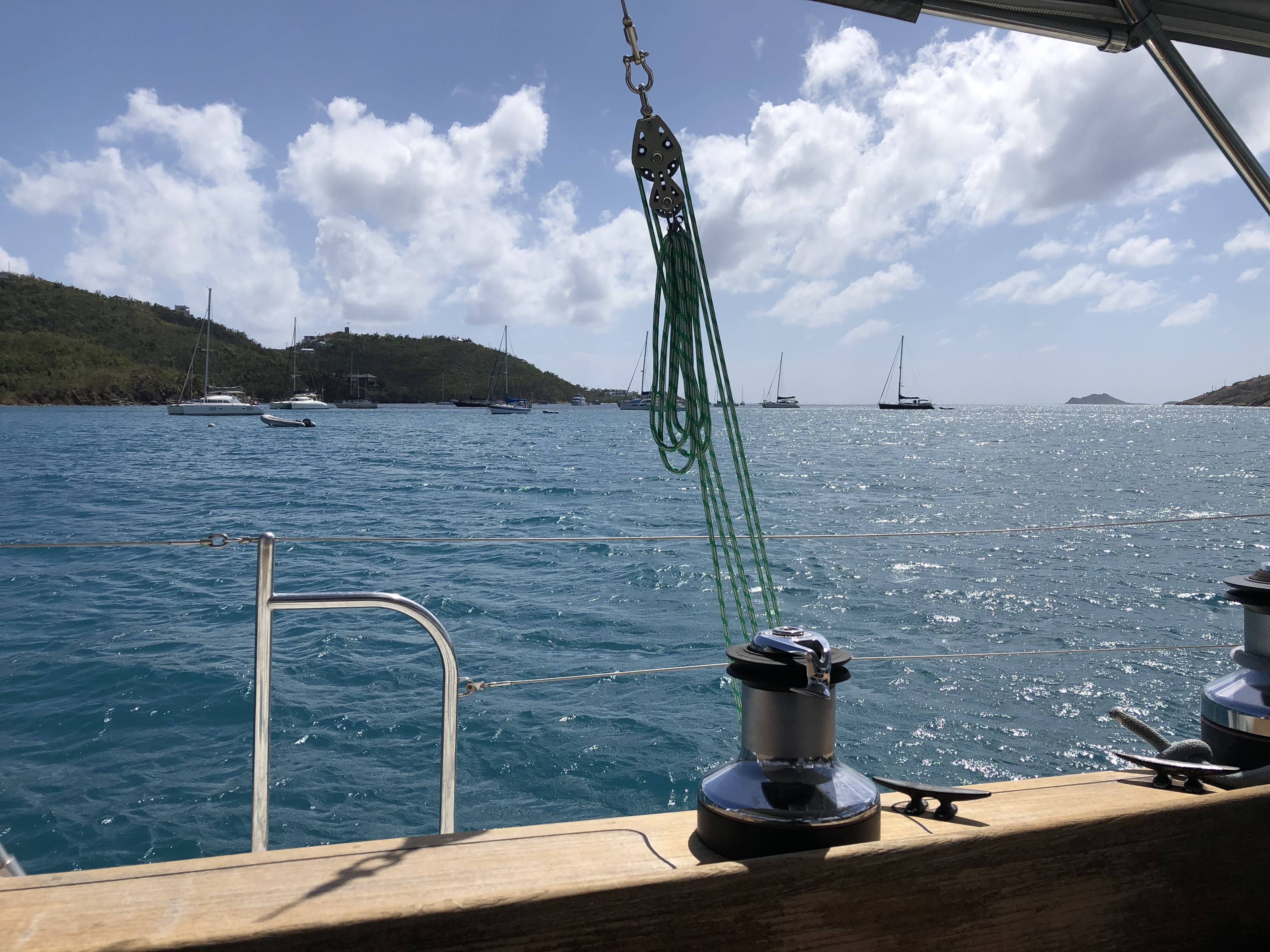 It's Monday now and by Wednesday afternoon we will finally all be back where we belong: on a boat down where the coconuts grow 🌴
So what's next?
We will be heading to St. John USVI where Peter hopes to find some work. The repairs our new boat needed didn't leave us with much savings but we now have an amazing fully functional home.
This year we are choosing to be south of 12 degrees 40 minutes (Grenada) for Hurricane Season like we did the first two years. It was much easier to get insurance for "outside the box" and it's statistically better odds for staying out of the path of another hurricane. We are required to be down there from July 1 – November 1 so we'll probably start heading south in May or June. Until then you can find us in the Virgin Islands!