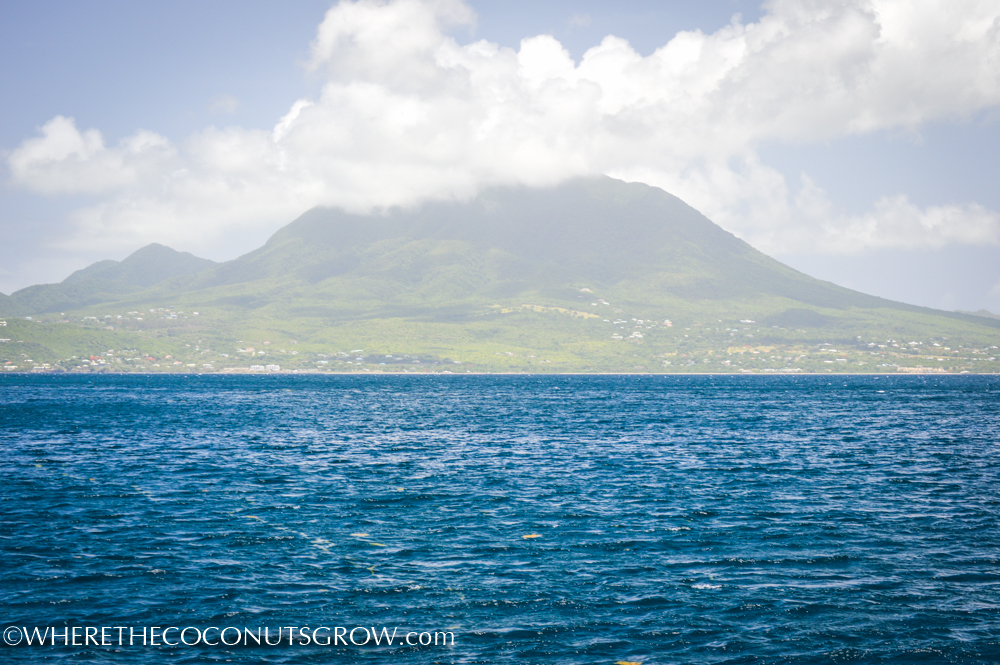 It was such a short hop over to Nevis once we left St. Kitts. The hillsides and black sand beaches were breathtaking at Pinney's Beach.
We took the dinghy around the point for a little snorkeling near the rocky points. The water wasn't very clear that day so we headed back toward where we were anchored and snorkeled off the beach near some scattered coral heads. Peter got a little too close and accidentally poked himself on an urchin. NO FUN!
Our diving adventures were cut short, but we still enjoyed the scenery.
Unfortunately we left our credit card at Salt Plage back on St. Kitts so we had to turn back and get it the next day. The management was incredibly helpful and even bought us a drink for our inconveniences. It's not so easy to just cancel a credit card and have a new one mailed out when we live on a boat with no mailing address. Oh well. It was an easy sail and it only set us back one day.
As we set out for Guadeloupe, a small pod of spinner dolphins came out to play as we passed by Nevis around dinnertime….
We left St. Kitts at 5:45pm on July 7th. Our night passage started off terribly uncomfortable when we made the mistake of not getting far enough off shore. The shoals south of Nevis stirred up the sea in a violent way and had us considering turning around to wait for settled weather.  Our friends Dustin and Courtney were planning to leave Nevis not long after us and we later heard they took a wave on the flybridge of Captiva, a 75′ Catamaran, on that very same passage! We persevered, wearily arriving at Deshaies, Guadeloupe at 10:15 am just in time to see a beautiful rainbow above our sistership, Lunacy.
We were finally a good distance down the island chain!
We're currently in Grenada wrapping up Hurricane Season and preparing to sail back north to the Virgin Islands… stay tuned for more adventures!